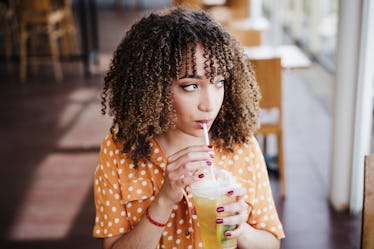 50 Hard Kombucha Instagram Captions To Go With Your Quali-Tea Snaps
Save these for your cutest sippin' selfies.
Westend61/Westend61/Getty Images
First, it was hard lemonade, and then it was seltzer. Now, hard kombucha is the latest trendy spiked beverage everyone who's 21 and over is sipping on. In fact, bringing a pack of JuneShine or Flying Embers to your next picnic or backyard hang is sure to make you the most welcomed person at the party. Just make sure to bring along some hard kombucha Instagram captions for all the beverage selfies and candid snaps you'll take of everyone getting in on the boozy sips.
While hard seltzer has definitely had its moment, hard kombucha also holds its own in the spiked beverage arena. It's packed with all the flavors you'd expect of traditional kombucha, but with the added kick of alcohol. It can also have the probiotics of regular kombucha and is typically gluten-free. It's light, refreshing, and the perfect companion for any end-of-summer or fall celebrations you may be having.
By having these 50 hard kombucha captions on hand, you'll be able to memorialize those simple moments of drinking on the porch or having a movie night with your besties on Instagram. If you're at least 21, you may even want to snap a pic of your cute kombucha can or a picture-perfect hard kombucha cocktail you made from a TikTok recipe. Either way, you'll be all set, thanks to these hard kombucha quotes.
"Chilling with my scobies."
"Kombucha is my future."
"Feeling like a cute-tea."
"But first, kombucha."
"There's nothing hard about drinking this kombucha."
"Feeling boochy keen."
"Booch, please!"
"Hanging with my booches."
"Hey there brew-tiful."
"I like you mucha like kombucha."
"Will you be my kom-boo-cha?"
"Hard kombucha is my cup of tea."
"I like my tea fermented and hard."
"It's kombucha time."
"Shake your booch-y."
"Move oolong. This is a job for kombucha."
"I'm guilt-tea for loving hard kombucha."
"In a world full of soda, be a kombucha."
"My superpower is I'm able to make kombucha disappear."
"This hard kombucha is quali-tea."
"Having a tea-rific time with my besties."
"This is all the mo-tea-vation I need."
"It's time to par-tea with hard kombucha."
"This hard kombucha and I have chemis-tea."
"Take a pitcher, it'll last longer."
"Move over, coffee. Today is a day for hard kombucha."
"Good vibes happen at happy hour."
"It's thirsty Thursday."
"Sip happens."
"You gotta nourish to flourish."
"Here's my booch of the day."
"My favorite drink is always my next one."
"Bad and boozy."
"Nothing compares to my boozy booch."
"According to chemistry, alcohol is a solution."
"It's beginning to look a lot like cocktails."
"Tea party in session."
"The key to life is positivi-tea."
"I just want to drink kombucha, hang with my friends, and sleep."
"Teas the season to drink hard kombucha."
"You were my cup of tea, but I drink hard kombucha now."
"You can never get a cup of tea large enough or a book long enough to suit me." — C.S. Lewis
"I came. I saw. I drank hard kombucha."
"Let me distract you with some hard kombucha."
"Sometimes all you need is a good cup of hard kombucha."
"Our adventure begins with hard kombucha."
"Where there's tea, there is hope." — Wing Pinero
"A simple cup of tea is far from a simple matter." — Mary Lou Heiss
"You drink kombucha?" — To All The Boys I've Loved Before
"If life gives you tea, make hard kombucha out of it."