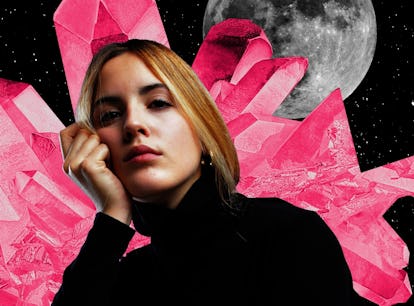 The 2023 Astrological New Year Is All About *You*, Queen
Your selfish era has begun 👑.
Javier Díez/Stocksy/Elite Daily
Straighten that crown of yours — the cosmos are getting ready to send some hot girl sh-, uh, vibes. Since the year began, the sun has been finalizing its journey through Capricorn, Aquarius, and Pisces, so there haven't been as many active, initiating sparks. As the spring equinox and Aries season make their debuts on Monday, March 20, that sleepy winter energy will transform into a more active atmosphere. With Aries being the first sign of the zodiac, this time also marks the start of the 2023 astrological new year, and your latest horoscope is full of exciting beginnings. In fact, every zodiac sign will set a wide variety of new endeavors in motion. The only option will be to hit the ground running.
If Pisces season left you feeling clouded by the emotions of other people, the sun shifting into this cardinal fire sign will allow everyone to realign with themselves in a way that's self-assured, headstrong, and autonomous. Aries is the sign of the self, so during this season, you'll be called to consider what *you* want, without spending too much time considering the opinions of others. Prioritizing yourself may feel selfish at first, but it's the only way to get your new ambitions off the ground.
When Does The 2023 Astrological New Year Start?
On March 20, 2023 at 5:24 p.m. EST, the sun will shift into Aries, marking the beginning of the astrological new year, as well as the start of the spring season. With so much dynamic, lively energy in the air, every zodiac sign will be prompted to leap before they look. This energy may sound a bit tactless, but sometimes trusting your impulses can get you further than waiting for the perfect time to take the leap.
Here's how each zodiac sign will be springing forward into 2023's astrological new year:
Aries (March 20 - April 19)
It's your season, Aries, so you'll be calling the shots. As the initiator of the zodiac, this fiery, active energy is nothing new for you, but you will feel a much-needed surge in energy after a slow last few months. Now is the time to set your sights on another one of your passion projects or independent endeavors, as long as you remain mindful of how many pursuits you're taking on. While this season is bound to have you feeling inspired, you'll also be the center of attention as the sun makes its way through your first house (not that you'll be complaining).
Taurus (April 19 - May 20)
On March 20, the sun will shift into your 12th house of isolation, solitude, and introspection, calling for you to take action behind the scenes when it comes to your alone time. As someone who tends to come off calm, cool, and collected, Aries season tends to bring out a side of you that most people never get to see, making this a good time to honor your impulses. Take some time for yourself, even if it means unplugging from the rest of the world. Trust me, it'll be there when you get back.
Gemini (May 20 - June 21)
As the astrological new year kicks off, your friendships and alliances will be rejuvenated as the sun shifts into your 11th house. You've never been afraid to take initiative when it comes to making new connections, and this season promises to fully support your new dynamics. This may also be a time where you're invited to lead a new community or alliance, so be prepared for others to be looking to you more often than usual for guidance.
Cancer (June 21 - July 20)
On March 20, the sun will shift into Aries, bringing assertion, energy, and new endeavors forward in your career and professional life. This may be a time where you'll be called to take the lead on a work project or endeavor, allowing you to get the recognition you deserve. Starting your own business endeavor also promises to go well, so don't be afraid to lean into any entrepreneurial pursuits you've been putting off.
Leo (July 20 - Aug. 21)
Oh, happy day. Your chart ruler, the sun, will finally be moving into a fire sign on March 20. This not only brings vitality to your sense of self, but it illuminates your current belief systems, perspectives, and philosophies. Now is a great time to share your ideologies with anyone who's willing to listen, because you're bound to have plenty to say. You may even find yourself stepping outside your normal routine by traveling or going on adventures — anything that broadens your horizons in a new, exciting way.
Virgo (Aug. 21 - Sept. 22)
This month, the sun will shift into Aries, bringing energy, assertion, and initiative to your shared duties, resources, and responsibilities. The astrological new year will bring a stronger sense of urgency to how you offer assistance to others, encouraging you to take the lead in ways you may exactly be used to. As a result, it's important that you set boundaries now in order to ensure that you're not taking on too many commitments.
Libra (Sept. 22 - Oct. 21)
On March 20, the sun will shift into your seventh house of romantic relationships, bringing awareness and action to your love life. Since Aries is your sister sign, this assertive, candid energy may feel a bit uncomfortable, but it's allowing you to take initiative in your partnerships. This could be a time where you're meeting and mingling with new, exciting people — something you live for. Bonds that begin now are bound to happen quickly, so be sure to buckle your seatbelt.
Scorpio (Oct. 21 - Nov. 22)
As the spring equinox begins, the sun will shift into your sixth house of work, habits, and routines, inviting you to re-vamp your current rituals. As the determined, purposeful sign of the zodiac, you'll be feeling eager to initiate new endeavors when it comes to efficiency. It's the perfect time to initiate anything that allows you to be useful and productive this season — just be sure to be mindful of burnout.
Sagittarius (Nov. 22 - Dec. 21)
On March 20, the sun will shift into the cardinal, fire sign of Aries, bringing vitality and action to your creative pursuits, passions, and interests. As a fellow fire sign, you're always looking for new opportunities to be spontaneous, and now is the perfect time to embrace your wild side. Enroll in a ceramics class, take up guitar lessons, or go on an impulsive road trip with a new flame — anything that lights a fire in you.
Capricorn (Dec. 21 - Jan. 20)
As the astrological new year kicks off, you'll be inspired to take action in your private world. You may find that your home and family life is suddenly demanding your attention, particularly when it comes to taking the lead with domestic matters. You're no stranger to embracing responsibility, but this season is prompting you to act much more impulsively than you're used to behind closed doors. Fortunately, you'll be able to harness this energy in order to get things done.
Aquarius (Jan. 20 - Feb. 19)
On March 20, the sun will move into Aries, bringing energy, assertion, and initiative to your current ideas, thoughts, and studies. You'll be absorbing new information quicker than usual this season, which means you'll be engaging in high-spirited conversations more frequently. While this season is great for stimulating your mind, be mindful of the way you're communicating with others now. Your perspectives may be received harsher than you intend them to.
Pisces (Feb. 19 - March 20)
This month, the sun shifts into Aries, bringing action and vitality to your second house of money, assets, and resources. This will speed up your spending habits as well as get things moving when it comes to how you make your money. Now is a good time to ask for a raise or promotion, because you're more than capable of taking on new tasks or duties. Just be mindful of making impulsive purchases now, you may be quicker to buy things without giving them much forethought.