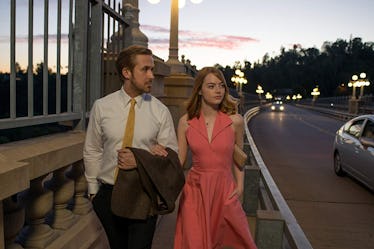 12 Valentine's Day Dates To Go On, Based On Your Favorite Rom-Com
Summit Entertainment
The movies have set the standards pretty high for dating. But in return, they've also given you relationship inspiration and Valentine's Day date ideas, so you owe them a well-deserved "thank you." Without movies like The Proposal, you might not have thought to take your SO on an overnighter in your hometown. 500 Days Of Summer may have inspired a romantic Ikea trip, and Say Anything is known for its "boombox on the shoulder" scene which you've probably recreated on the reg.
Not to mention, on multiple occasions, you and your love have cuddled up on the couch with a bowl of popcorn and turned on these rom-coms for a cozy and chill night. You may have skipped out on meeting up with your besties at the bar just to see Jennifer Gardner and Mark Ruffalo fall in love in 13 Going on 30. Certain scenes and plot lines will never get old — even if you've seen these kinds of movies over and over again. And you'll forever love quoting Steve Carell's lines in Crazy, Stupid, Love along with your SO.
This Feb. 14, though, take your love for rom-coms and your relationship to the next level. Combine them by going on a date that's totally unique and inspired by your go-to movie. Here's the Valentine's Day date you should go on, in case you weren't sure where to start.