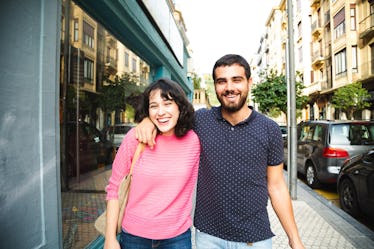 10 Unique Hometown Dates To Take Your Partner On For Ultimate Bonding
Shutterstock
When you're dating someone, you typically want them to be a massive part of your life. You want them to be there when you're sipping vanilla milkshakes at your hometown diner, and know all the hilarious stories you have from your high school days. Sure, you could recap everything while casually hanging out in your apartment. But taking your partner on cute and unique hometown dates will make for ultimate bonding.
They'll get to see all of the spots around your town that you talk about on the reg, and put faces to important names. They'll watch your face light up as you drive by the pizza place where your best friend sneezed and soda came out of her nose, or the park where you used to hang out after school. All of it will give your love a better glance into who you are as a person, and why certain things — like Taylor Swift albums, skateboards, and home fries — are so special to you.
Now, you could always take some notes from the Bachelor franchise and plan hometown dates that revolve around meeting your family or going to a restaurant that looks great on camera. But these 10 dates are totally unique and a great place to kick things off.