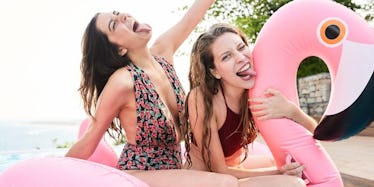 20 Things You Need To Do With Your Friends In Your 20s Before Tying The Knot
No matter where the road to the future may lead, you have to live it up with your girlfriends in your 20s.
As spectacular as this thing we call life is, it's also infamous for throwing us curve balls when we least expect them.
But, at the end of the day, life is simply too short to let any of those obstacles get in the way of making time for what we truly want to cross off our bucket lists.
Your 20s can fly by like a plane at top speed, and unfortunately, you'll never have the opportunity to rewind the clock.
Plus, once you meet your forever person, things will only speed up even faster, until you reach that next exciting phase of your life: tying the knot.
Needless to say, the time is now to do everything you've always dreamed of doing with your gal pals.
Here are 20 things you should check off your list before settling down.
1. Pack your bags, rent a car, and drive across the country. Take the best pictures along the way to make your trip uniquely memorable.
2. Hike the Grand Canyon, and stay in a cozy cabin right on the rim. You'll wake up to find a glorious view of the sunrise directly outside your window.
3. Celebrate Mardi Gras the right way, on Bourbon Street in New Orleans.
4. Go to Coachella in Indio, California, or jet off to Boom, Belgium to rage your face off at Tomorrowland.
5. Cross that top dream destination off your bucket list -- the one that you and your girlfriends have been dying to explore.
6. Take a wine or beer making class, and learn more about the art.
7. Live together. Whether you decide to move to a big city, or rent a house near your hometown, the time is now to live with your girl squad. Get whimsical decorating the interior, and throw a seriously lit housewarming bash to make it official.
8. Host a classy AF dinner party, just because. Bring on the wine, and keep it coming.
9. Sign up for a yoga, kickboxing, or soul cycle class together. Even if you end up being terrible at it, you'll all leave with some good laughs and awesome memories.
10. Complete a color run or marathon.
11. Block off as many Sundays as humanly possible for boozy brunch.
12. Crush your wingwomen duties like complete and utter girl bosses.
13. Establish your go-to spot in town, where all the bartenders know you, and your table.
14. Go to adult camp for the weekend. Club Getaway in Kent, Connecticut is a great way to escape the struggles of adulting, complete with water sports and a club along the water where you can drink the night away.
15. Solve a puzzle in 60 minutes to "Escape The Room." Get competitive and break off into teams to see who can escape the room first. Losers have to buy the rest of you all drinks afterward.
16. Make a wine festival bucket list, and start checking events off ASAP.
17. Join a kickball flip cup league to play in after work, because #priorities.
18. Throw an epic Friendsgiving party every year. Get your DIY on for decorations, and cook a tasty turkey together. Everyone can be in charge of making their own side dish and a dessert.
19. Break out your dirndls, and sip some brews as you Prost (or cheers!) at Oktoberfest. It will truly make for an unparalleled, lit AF experience you wouldn't want to have with anyone other than your squad.
20. Dress up and take a spontaneous weekend trip to Las Vegas. Hit up a rooftop pool party, and dance the night away at the club.