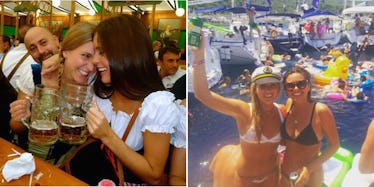 12 Places To Travel With Your BFF When You're Single And Down For Anything
Facebook/Instagram
Those who vacation together, stay together.
Planning a vacay with your forever friend enhances the bond like no other, especially if it includes the two of you jetting off to a beautiful spot in the world neither of you have ever been to before.
Both of you will learn so much more about one another (and yourselves) along the journey, while obviously having the times of your lives.
You'll undoubtedly come back from your trip feeling fulfilled and refreshed. Plus, you'll return home armed with countless inside jokes and new memories the both of you will cherish for years to come.
If you ask me, whether you want to escape reality, immerse yourself in a new culture, find yourself or be totally spontaneous with your bestie, taking a vacation together seems like the definite way to go.
Here are 12 hotspots to travel to with your BFF when you're single and down for anything.
You and your bestie will pretty much feel like you transported to an incredible, dreamlike world upon your arrival at Tomorrowland. People from all over the globe unite to party the wild weekend away to the beats of artists such as Steve Aoki and Tiësto.
2. Burning Man in Black Rock Desert, Nevada
Burning Man only happens once a year, inviting festival-goers and artists alike to make their way to Black Rock Desert and create something magical: Black Rock City. Magnificent artwork and ragers take over the desert for a week you won't want to miss out on.
3. Yacht Week in Croatia, Greece and more
Ah, what's better than hanging with your bestie while you're cruising in the sun and partying it up on a yacht for a whole week? You'll make new friends, and you'll definitely bond over booze, booze and more booze.
4. Balloon Fiesta in Bristol, United Kingdom
The International Balloon Fiesta looks like a page straight out of your favorite fairytale... but it's reality. This magnificent experience will certainly yield so many awesome Instagram posts, and the FOMO will be all too real for your followers.
If you and your best friend love hopping from festival to festival over the summer, this is a great one to add to your bucket list. With The Chainsmokers, Major Lazer, Wiz Khalifa and more taking the stage, this lineup looks lit AF.
Let's be real here: If there's one person you'd want to go on an African safari with, it'd probably be your partner in crime. And if you and your bestie love animals, this is the ultimate getaway for you to treat yo'selves to.
7. Coachella in Indio, California
You'll be #ChellaChillin in the sun, looking trendy AF all damn weekend long. You and your BFF will dance the days away to sick music, experience celeb sightings and eat ALL the delicious food your stomachs can handle.
Calling all besties who are passionate winos: This trip was legit made for you. As its name suggests, it's a festival all about wine and delicious food. What could be more perfect than that?
9. Hit the high seas on a Norwegian Escape Singles Cruise.
A singles cruise is a prime idea for any ladies in search of an all-inclusive trip where relaxation, piña coladas, tanning, clubbing and all the summer babes await.
10. Beach it up with the swimming pigs in the Bahamas.
If that sweet little munchkin baby pig chilling in front of the sparkling, aqua blue water didn't win you over, then you may very well have to reevaluate your priorities.
New Orleans is the ultimate destination for you and your bestie if you're just a couple of party girls at heart who purely want to rage all weekend long. Mardi Gras will definitely make sure the good times are rolling for both of you.
12. Oktoberfest in Munich, Germany
PROST (AKA, cheers)! The Oktoberfest grounds have carnival rides, festive food and an endless supply of beer. Festival-goers get into the spirit by rocking dirndls and lederhosen, which makes the event even more fun.
Pro tip: Do NOT attempt to chug your beer while standing atop one of the picnic tables (it's not allowed). I learned this the hard way, but I still managed to have an amazing time with my besties.
Wherever you decide to travel with your best friend, you'll have the time of your life, meet new people and evolve your friendship for the better. These are all awesome locations and events to help you embrace the single life and make irreplaceable memories together.
Needless to say, you should call up your main gal pal STAT and get the planning started.