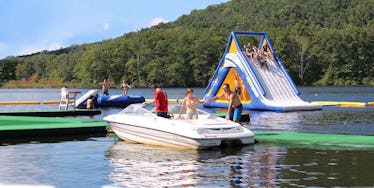 Club Getaway Is The Sleep Away Camp For Adults That You've Dreamed About
Believe it or not, you don't have to be an 8-year-old to experience the true luxury of sleepaway camp.
It's reported by the American Camp Association that over 11 million children and adults set out on camping excursions annually -- and it's not for no reason.
For kids, it's an opportunity to interact with new people in a neutral territory and have fun doing it.
For adults, well, it's because places like Club Getaway keep us wanting more!
Located in Kent, Connecticut, Club Getaway is a private sanctuary dedicated to having the time of your adult life.
It is, without a doubt, the only place where you can comfortably blackout and somehow not hate yourself in the morning.
You can be a full-grown adult with countless responsibilities and still venture out to the woods with your friends and coworkers. Amazing, I know. The only difference? You're going to be drinking 100 percent more alcohol.
And you will certainly have 100 percent more fun because of it!
That's all thanks to over 300 acres of property that makes getting lost seem like the greatest thing to ever happen to you.
Aside from meeting Club Getaway's "Director of Entertainment," Bluto, of course!
Elite Daily had a chance to experience the thrill of this wonderful establishment for ourselves during our company retreat.
Here are eight reasons why you need to book a weekend stay at Club Getaway like, yesterday.
It's actually within driving distance, unlike many other getaways.
You're on the Internet. You're looking to book a weekend getaway. You hit a wall. Everything is either way too far, way too expensive or, usually, both. It sucks.
Fortunately, Club Getaway, which is tucked away between the two peaks of the lower Berkshire mountains in Connecticut, is easily accessible to residents of New York, New Jersey, Massachusetts and surrounding areas.
Club Getaway also offers a $59 bus ride from New York City to accommodate guests who wish to enjoy endless rounds of chilled wine without having to do the driving themselves.
You're in good hands before you even get there!
You won't be bored with this many activities. Ever.
The issue with visiting all-inclusive resorts is that those types of establishments typically fall short when it comes to the activities they offer. That's never a problem at Club Getaway.
Our Video Producer, Camille D'Elia says,
I love that we always had something to do, even on rainy days. 
Indulge in all of your favorite sports and activities such as rock climbing, zip lining and even learning how to reach for the stars by professional trapeze artists!
Other activities include waterskiing, canoeing, tennis, golf, basketball, volleyball and even a variety of fitness classes.
The only real rule is to have fun.
If you're not one to play by the rules, feel free to locate one of the bouncy castles at Club Getaway. They serve as pretty good boxing rings, which are perfect for settling the score between a sworn enemy and yourself.
We speak from experience. Our Sports Writer, Joseph Milord, reveals,
Everyone has either that coworker who either talks too much, is annoying and/or a jerk. Unfortunately, I know one who ticks all three of those boxes. So naturally, I felt inspired to throw the same amount of haymakers in Club Getaway's inflatable ring (and did so accordingly).
Club Getaway is more concerned about making sure you have fun than anything else.
With that, the possibilities are endless.
Club Getaway's mascot is the f*cking man.
Every team has a mascot. At Club Getaway, his name is Bluto.
You'll instantly want to befriend this dude and it will be for more than one reason. Aside from being incredibly hospitable, Bluto is simply the life of the party, making him easy to spot.
Aside from that, he's also the only person fast asleep on a mattress in the middle of the dining hall during breakfast. And if he's not there, he's somewhere dressed in a wacky, incredibly obscure outfit you've never seen before.
The food is so worth leaving your cabin for.
Despite the fact that you'll likely be in bad shape after your first night at Club Getaway, you'll surely flee your cabin when you smell the aroma of breakfast being served in the dining hall.
Once you get breakfast out of the way, you'll already be thinking about lunch, which is basically just one just feast. From burgers, grilled steaks and barbecue chicken, to ice cream, chocolate cake and freshly-baked cookies, you'll have no problem filling up at Club Getaway.
You might want to hit a few fitness classes before your afternoon snack at the lakeside barbecue and dinner.
The best part? All of the delicious meals are prepared by chefs from the Connecticut Culinary Institute.
Once again, you're in a good hands.
Not big on activities? Just kick back and relax.
Just want to chill out for once? That's perfectly fine!
Getting away should never be about being pressured into participating in activities and team sports if that's not your cup of tea. Club Getaway encourages you to scour its 300-acre oasis and find your comfort zone.
Not to mention, they have a pretty captivating lake that soothes the soul. Our Director of Communications, Joana Pizzirusso, says,
It's easy to visit the beach or go to a pool during a summer, but having accessibility to a lake that awesome all summer long is super rare, which makes me appreciate the uniqueness of it when I'm there that much more.
If you live in or around New York, you know finding a fresh body of water is nearly impossible.
There are dinner parties, happy hours and even a private nightclub.
A common misconception about camping is that once you're out there in the wilderness, you have to kiss the nonstop partying goodbye and kick into survival mode. We all know that's no fun. At all.
Luckily, Club Getaway wants you to keep the party going, which is exactly why they offer multiple happy hours located throughout different areas of the property on a daily basis.
But you're used to company happy hours. You want more.
Fortunately, in addition to bars and happy hours, there's also a private nightclub on-site called The Boathouse Club. Not to mention, the DJs know what they're doing!
And if you want to get even more creative, be a part of the silent disco where wasted partygoers put on headphones and select their own vibes to dance the night away to.
Friendly staff? More like kindhearted experts!
One of the stand-out features that this Connecticut-based establishment has to offer is its staff. Very quickly, you'll learn they're more like the long-lost friends you've been waiting your entire life for.
Aside from making you feel at home, Club Getaway's finest are also experts at pretty much everything from adventurous kayaking to making sure you have a drink in your hand. At. All. Times.
Oh, and they're extremely courteous, too. Our Copy Editor, Aly Vander Hayden, says,
I gotta give a shoutout to the three camp counselors who lifeguarded in the rain just so Rebecca, Lydia and I could drunkenly swim in the lake that Saturday.
Yeah. Like, that courteous.
Club Getaway is the rawest form of social networking.
And you thought Snapchat was cool?
There's nothing better than being able to get away from the madness of your daily routine and resort to a serene environment where you rarely ever see a cell phone (unless you're taking selfies) or a laptop screen.
Our Director of Human Resources, Kayla Inglima, tells us,
Club Getaway provides the perfect backdrop to truly integrate and build your team on a personal and professional level, while still having an awesome, fun experience. 
Where else would you be given the platform to brainstorm ways to take over the world while throwing back shot after shot and waking up in the middle of the woods with your favorite people?
Ready to be one of the 10,000 guests Club Getaway hosts annually?! Go ahead, relive your childhood.
Note: We intended to provide more quotes from our staff regarding our wonderful experiences at Club Getaway, however, according to our Content Manager, Robert Gordon, "it was all a blur."