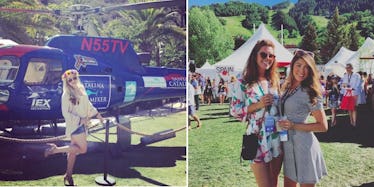 6 Wine Festivals Every Wino Needs To Check Off Her Bucket List In Her 20s
Instagram
Food and wine festivals take place across the globe throughout the year, meaning it's always a good time for a glass of the good stuff.
Sure, a cold glass of strawberry rhubarb sangria tastes all the more pleasing when you're sipping it with your toes comfortably situated in the sand and your booty parked in your favorite spot on the beach.
Let's be honest: Every single day throughout the summer months seems like a perfect time to kick back and uncork a bottle of rosé.
If you haven't already mapped out your travel bucket list for this year, let alone this summer, you're in luck.
We put together six wine festivals every passionate wino needs to check off her bucket list in her 20s.
What better time than the present to wander from wine festival to wine festival? Expand your palate, and explore cream-of-the-crop wines across the country.
This three-day extravaganza is a spectacular way to ring in the summer season. Esteemed winemakers throughout the world, celebrity chefs and notable figures in the culinary community will grace the festival grounds for an unprecedented (and extremely delicious) affair.
Round up the squad and enjoy the Grand Tasting Pavilion, wine tastings and cooking demonstrations, in front of a beautiful backdrop of the Aspen mountains.
Finger Lakes presents the biggest (and most impressive) display of wines made in the entire state of New York.
To kick off the weekend, you best whip out your finest toga for Yancey's Fancy Launch Of The Lakes costume contest. Let the games begin.
Wine and cheese samples are an absolute must (because wine without cheese would be downright sacrilegious), and the fireworks show will be the cherry topping to an incredible evening.
Take it from these ladies, and *toga, toga, toga.*
With outdoor cooking demonstrations, live music, culinary classes and craftsmen coming in from all over the world, this is certainly a weekend summer affair you won't want to miss.
This 10-day extravaganza is every wine lover's dream come true, taking place in the heart and soul of wine country: Napa Valley.
One hundred wineries will be in attendance, and more than 60 events will take place throughout the festival. Enjoy performances from artists such as Bill Murray and San Francisco Ballet, while tasting your way through the week with Napa's finest cuisine.
OK, this isn't your typical festival affair. In fact, it may just be even trendier.
90+ Cellars Rosé On The Water is a summer cruise tour, and honestly, every wino in her 20s should have this event at the very top of her bucket list.
The captain calls "all aboard" at 6:30pm sharp, at which time guests will set sail for an evening of sipping and savoring from Pier 83 in New York City.
The dress code abides by one rule, and one rule only: "All things pink," because, #RoséAllDay.
5. Wine On The Beach, September 29-30 (Ocean City, Maryland)
What better place to sample wine all damn day than right on the beach? Wineries from Maryland, craft vendors, delicious food and awesome entertainment bring the full festival experience directly to the shore each year, giving guests a final, delectable taste of summer.
Ah, it's the fucking Catalina Wine Mixer, party people.
For all of my fellow "Step Brothers" fans out there, this mixer actually exists IRL (on Catalina Island, of course). Adding this event to your travel itinerary is beyond necessary.
It's time to be the spontaneous soul you are, feed that wanderlust and cross off these wine trips like it's your job.
Citations: ASPEN FOOD & WINE CLASSIC (Aspen Meadows Resort), Finger Lakes Wine Festival (Finger Lakes Wine Festival), YANCEY'S FANCY LAUNCH OF THE LAKES (Finger Lakes Wine Festival), Festival Napa Valley (Festival Napa Valley), 90+ Cellars Presents Rosé on the Water NYC 2017 (Eventbrite), Wine On The Beach (Wine On The Beach), Catalina Wine Mixer 2017 (Visit Catalina Island)