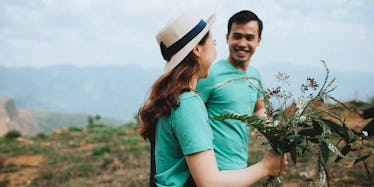 18 Best Instagram Captions For Your Honeymoon Pics With Your SO
Chien Pham/Unsplash
Once you've made it through one of the biggest days of your life (your wedding day), the adventure begins. You're a married chick now. But even before that big adventure kicks off, you'll be #blessed with a beautiful vacation to keep the festivities going -- your honeymoon.
Whether you book the honeymoon suite in a tropical paradise, or jet off to a sightseeing tour of Europe, your honeymoon is your first vacation as newlyweds, and it should be incredible. Hopefully, you'll be snapping away pictures for your friends and family to see. And just like you and your significant other perfectly complement each other, you need to find the ultimate caption to accompany your travel pics.
You shouldn't have to deal with any stress on your honeymoon. Needless to say, here are 18 captions you can use for all of your honeymoon pictures. This way, you can upload your photos, and immediately get back to the relaxing on the beach and seeing the sights.
1. "The sand may brush off, and the salt may wash away, but the memories will last forever." -- Unknown
2. "Marriage is getting to have a sleepover with your best friend every night of the week." -- Christie Cook
3. "May your adventures bring you closer together, even as they take you far away from home." -- Trenton Lee Stewart
4. "This is not a love story. This is a story about love." -- Unknown
5. "It doesn't matter where you're going... it's who you have by your side." -- Unknown
6. "Let's travel together and get lost in beautiful places." -- Unknown
7. "Let's go somewhere where the stars kiss the ocean." -- Unknown
8. "Heaven is a place on earth with you." -- Lana Del Rey
9. "Love is... someone to share paradise with." -- Unknown
10. "Married AF!" -- Unknown
11. "Adventure is out there!" -- Up
12. "I can show you the world." -- Aladdin
13. "Will you come travel with me? Shall we stick by each other as long as we live?" -- Walt Whitman
14. "Here's to all the places we went. And here's to all the places we'll go. And here's to me whispering again and again and again and again; I love you." -- John Green
15. "As soon as I saw you, I knew an adventure was going to happen." -- Winnie the Pooh
16. "Paradise found." -- Unknown
17. "Love is being with you anywhere." -- Unknown
18. "In life, it's not where you go -- it's who you travel with." -- Charles Schulz