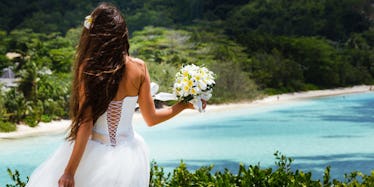 Where You Should Go For Your Honeymoon Based On Your Zodiac Sign
Shutterstock
A couple's honeymoon continues the celebration of the start of their married life after the wedding. It should be an intimate, extraordinary trip for the couple to relax and enjoy the beginning of their new journey together.
When it comes down to the honeymoon destination, that decision can certainly be a tough one. There are so many exquisite places around the world that have perfect romantic settings. The possibilities are seriously endless.
Planning this amazing trip should not be a stressful task. Calling all brides-to-be: I'm hoping to put many of your minds at ease with this zodiac-inspired guide to the honeymoon that's meant for you.
Aquarius: Explore beautiful vineyards in Napa Valley, California.
The Aquarius woman loves hitting up social activities. This gal is all about creativity and being surrounded by family and friends. An ultimate destination for her honeymoon would be exploring the vineyards of Napa Valley, California.
The happy couple can tour the incredible wineries the area has to offer, drink fabulous vino and enjoy intimate picnic lunches in a prime setting. The Aquarius and her man will surely be making friends on the group wine tours.
Pisces: Stay on a palm tree-shaped island in Dubai.
The Pisces woman is known to have an incredible imagination. Dubai is most certainly a breathtaking honeymoon destination for this bride and her hubby.
This couple will have a memorable vacation staying on the Palm Jumeirah, Dubai's man-made island, which is actually shaped like a palm tree. Your vacay will be filled with paddle boarding, water sports and possibly a special evening dining in an underwater aquarium restaurant.
Aries: Bask in the sun on Hawaii's exquisite beaches.
Aries women are very passionate and brave. What better place to bring on the passion than Hawaii? It's time for fun, relaxation and rejuvenation.
This vacay is all about you and your new husband so make it count! Swim with the fish and sunbathe on the tropical beaches. The Big Island and Maui are apparently the prime islands to get your snorkeling adventures on.
Taurus: Relax and focus the mind and body at a yoga resort in Bali.
The Taurus gal is super down-to-earth, although she loves to enjoy the finer things in life. Rejuvenating at the COMO Shambhala Estate in Bali is the kind of honeymoon you deserve.
Complete with massages, facials, yoga and meditation practices, rock climbing and much more, this trip will certainly be one for the history books.
Gemini: Enjoy an authentic cooking class and wine-tasting tour in Santorini, Greece.
The Gemini bride is very enthusiastic. This gal is of the highest spirits and is always down for a good time. The perfect honeymoon for this couple's celebration is Santorini, Greece. Take a cooking class and wine-tasting tour, swim in the beautiful hot springs and hike a volcano.
Cancer: Explore museums and architecture in Florence, Italy.
The Cancer bride is affectionate and creative. There's truly no better place to explore a variety of amazing museums, while taking in gorgeous architecture and beautiful artwork, than Florence in Italy.
The Museo Salvatore Ferragamo should definitely be on the Cancer bride's itinerary, in addition to hiking up to Piazzale Michelangelo.
And let's be honest, this couple will truly be set with divine food and culture for the entire trip. From the friendly locals to all of the exquisite gems this city has to offer and, of course, endless gelato, Florence will make for a magnificent memory.
Leo: Go camel trekking in Morocco.
Leos are known to be very energetic and confident. This gal and her new hubby would have an epic start to their new life together in Morocco, where they can go camel trekking, swim in the Mediterranean Sea and explore palaces in Marrakesh.
Virgo: Soak up the sun on a beach in Monaco, France.
The Virgo bride will completely fall in love with spending a romantic vacay with the love of her life in Monaco. You can't go wrong with soaking up some rays on the picturesque Larvotto Beach, which is within walking distance to Monte Carlo.
This beach is extremely popular and will make for incredible pictures. Visiting Prince's Palace is definitely a staple to this couple's very special trip.
Libra: Get romantic and cozy skiing in the French Alps.
The romantic Libra won't be able to get enough of Megève, a breathtaking ski resort located in the French Alps. A charming honeymoon filled with skiing, exploring the beautiful village, shopping at boutiques and savoring exquisite cuisine will be right up this bride's alley.
This getaway is certainly an incredible place for the new couple to celebrate the beginning of their life together.
Scorpio: Rejuvenate at a luxurious spa retreat in Austria.
The balanced Scorpio is meant to relax and rejuvenate at a spa resort. What better place to connect with the mind and cleanse the body than Austria?
The exclusive Viva Mayr resort is located on Austria's beautiful Lake Worth. Complete with a lavish spa, pool and incredible restaurants, this resort will surely make this couple's honeymoon worthwhile. You can't beat waking up every morning with your love to these beautiful surroundings.
Sagittarius: Satisfy your wanderlust on an elephant trek in Thailand.
The Sagittarius gal is all about adventure. The perfect honeymoon for a Sagittarius would showcase her deep love for exploring new places. What better spot than Thailand?
The Four Seasons Tented Camp Golden Triangle defines luxury and exquisite adventure, where you can hike mountain trails and take a once-in-a-lifetime sunrise elephant trek.
Capricorn: Stargaze your honeymoon away in the Canary Islands.
The Capricorn is known for being very ambitious and determined to reach for the stars to accomplish her goals. Don't get in this girl's way because she will break down every obstacle that presents itself.
An incredible honeymoon location for the Capricorn would be the Canary Islands. The biggest island, Tenerife, is a dreamy and romantic spot for newlyweds to stargaze every night of their vacay away.