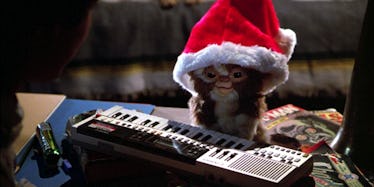 Ho Ho Horror: 5 Flicks That Will 'Sleigh' You This Holiday Season
Warner Bros.
If you're anything like me, the only thing you like about the holiday season is using the chilly weather as an excuse to bunker down and have a movie marathon.
I've been known to turn on "The Human Centipede" while my Dad hosts his annual Christmas party for friends. (Note: Don't worry; I've matured. I don't do that anymore.)
While I don't condone this behavior for just anyone, I've compiled a list of flicks for you to watch this holiday season that will comfort your Scrooge-like soul. Grab your flannel blanket and best fuzzy slippers, and get ready to "Bah! Humbug" from your couch:
Little creatures terrorize a picturesque upstate New York town over Christmas time.
They take over a bar and swing from the chandelier, while Phoebe Cates delivers the most depressing Christmas story in the history of the world.
The best part? The sweet little Mogwai Gizmo is sure to melt even the iciest of hearts. So you CAN have that warm and fuzzy feeling this season from a Mogwai who knows how to play the keys.
Thumbs down to last year's snoozefest: "Krampus."
For a real experience with the Scandinavian creature who snatches up bad little boys and girls, the Finnish film "Rare Exports" is sure to give you a nice dose of schaudenfraude (happiness derived from the misfortune of others).
Replete with gory visuals and a snowy, isolated landscape, you'll feel justified in snarking at all the cards you get from your friends showing off their little munchkins in snowflake costumes.
"Nightmare Before Christmas" wasn't Tim Burton's only awesome contribution to the holiday season.
The year 1992 gave us Michelle Pfeiffer in the fiercest BDSM latex suit ever and pitted her against a sinister Danny DeVito and smarmy Christopher Walken.
This film is dark and fun, and if you think you're having the holiday from hell, don't you fret about it — Bruce Wayne definitely is, too.
This one is a remake of an '80s cult classic called "Silent Night, Deadly Night."
The only thing I need to warn you about is that there is an absolutely gratuitous scene involving reindeer antlers, and that's all your Maleficent-like mind has to know.
But I will also tell you that this is definitely a tale of a mall Santa gone bad.
OK, so this one is not full-on horror per se.
But if someone you're dating won't snuggle up with you and crack up at the one-liners in this movie while drinking mulled wine, I am going to say you should probably end things right there.
OK, so I take back what I said about the mulled wine, but other than that, a good friend or partner will be so down for watching this '90s classic with you.
But all things considered, if you really are on the same level of Grinch that I am, you should get yourself a DVD of "The Muppet Christmas Carol" stat.
As uncool as it sounds, I dare you, my fellow dark center of the universe, to watch Bean Bunny in a resounding holiday chorus and the magnificent Mr. Michael Caine take a turn for the better as Ebenezer Scrooge and NOT feel something nice this holiday season.