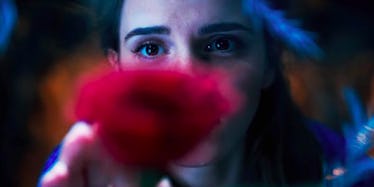 Emma Watson Gets Her Dance On In New 'Beauty And The Beast' Stills
YouTube
As a '90s baby, my heart is rejoicing. Despite being named after the "Little Mermaid," I've always had a soft spot for Belle.
This is me, as a child, having an identity crisis.
"Beauty and the Beast" is being adapted into a live-action film and it's set to come out in March of 2017.
"Harry Potter" star Emma Watson is playing Belle (because of course she plays another girl who only reads), and she looks incredible.
This classic scene being brought to life is giving me the feels, TBH. I've always wanted to roll across a library with a ladder because of this movie.
And then there's this still that's making everyone go more than just a little crazy...
This is an accurate depiction of what my prom was like.
But I ain't even mad. We have to be a little grateful this is happening. Back in 2011, Alan Manken, who composed music for "Beauty and the Beast," "The Little Mermaid" and many other Disney classics said the film adaption was canned in an interview.
Three years later, Disney was back on board after seeing other live-action film adaptions become so successful like "Alice in Wonderland," "Maleficent" and "Cinderella."
We all know Disney wanna make that money.
But could you at least spend a little extra on a more realistic looking beast? Like, seriously... he looks straight out of "Pan's Labyrinth."
Everyone's hoping the still isn't confirmed, but it looks pretty real to me. The official "Beauty and the Beast" Instagram hasn't updated in the last 12 weeks and still only has the one trailer.
Even if it isn't real, I'll most likely still watch the movie and drool at how beautiful Emma Watson is.
Citations: New Beauty and the Beast Stills Give Us Our First Look at the Live-Action Beast (io9)