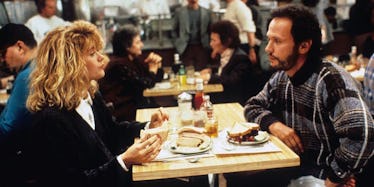 6 Rom-Coms To Binge That Won't Make You Cringe This Cuffing Season
Columbia Pictures
The holiday season is right around the corner, which means one thing and one thing only: Engagements are going to start creeping up all over your news feed.
Before you know it, it will seem like every single person with a heartbeat has a diamond ring.
So before we say "hello" to Thanksgiving, Christmas and then Valentine's Day, we might as well spend some quality time on the couch this fall watching movies about love that won't make us roll our eyes or feel hopelessly helpless in our own dating lives.
When the weather gets too chilly or you're in dire need of a break from going on three Tinder dates a week, here are six rom-coms to binge that won't make you cringe this cuffing season:
"Pretty Woman"
Seeing Julia Roberts play a woman who goes from rock bottom to the top of the world is the kind of movie that's uplifting, funny and romantic — in all the right ways.
It never gets old watching the transformation of her character go from an unpolished, wild woman to a high-society, classy gal. Especially when that transformation is bumpy and hilarious.
"My Best Friend's Wedding"
Another Julia Roberts classic.
If you've been to enough of your friends' weddings, you know that they never go off without some kind of hitch. This movie is a great reminder of the drama surrounding nuptials and the many people who can get involved.
Plus, we can all semi-relate to having a crush — or, OK, a full-blown romantic obsession — on a good friend who happens to be committed to someone else. Womp womp.
"Bridesmaids"
With engagement season creeping around the bend, the chances of you being asked to be a bridesmaid will be high.
If you're about to say the big "no" to the offer (or just need a little laugh before you say yes), watching "Bridesmaids" is a guaranteed way to help you approach the bridal party role without stress.
"When Harry Met Sally"
This one is for all of us awkward girls who find ourselves in the friend zone with someone we may have feelings for, but don't know how to express said feelings.
Plus, there's nothing like watching the famous Katz's Deli scene (you know, the one where Meg Ryan epically fakes an orgasm) with the volume all the way up in your apartment.
It will give your neighbors something to talk about, that's for sure.
"10 Things I Hate About You"
If you're going to throw it back to your high school days, this is the movie to watch.
Also, Julia Stiles' character in this movie is pure badass.
And damn, do we miss Heath Ledger. Tear.
"In Her Shoes"
If you're going to allow yourself one rom-com that'll make the tears flow out of your eyes but not make you want to hide in your room for three days eating nothing but takeout, this is the one for you.
It's equal parts funny and sappy. Plus, it explores all different kinds of relationships — both romantic and familial — which we all we often struggle with to get right.
And isn't that really what the upcoming holiday stretch is all about? Focusing on all of the relationships in your life, and not just your engagement ring-filled Facebook feed?