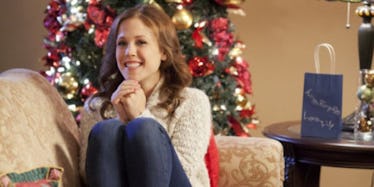 The Hallmark Channel Has Four New Holiday Movies So Try To Keep It Together
The Hallmark Channel
There aren't many things not to like about the holiday season.
Well, maybe there is one thing we could all do without...
Admit it, being interrogated by your loving family members about every aspect of your life can be can get pretty damn annoying.
Other than that, the holiday season (or "red cup season" for all your Starbucks addicts) is one of the most joyous, comforting times of the year.
Aside from the gifts, delicious food and memorable moments, it's no secret that holiday movies play a huge role in the celebratory coziness surrounding Thanksgiving, Christmas and New Year's Eve.
This holiday season, if you love good ole holiday movies, you're in for quite a treat thanks to Hallmark.
Grab your blanket, a hot cup of tea, a snuggle buddy and your favorite jammies because Hallmark just introduced four MORE new holiday movies in addition to the 22 feel-good movies already announced.
How much is enough? Not 22, clearly.
According to Cosmopolitan, the movies Hallmark previously announced will feature Lori Loughlin from "Full House," Danica McKellar from "The Wonder Years" and many, many more.
Now, the network has announced four additional movies because why not? Out of the four new movies announced, three of them are Christmas movies and the last film is a Hallmark Hall of Fame movie.
Behold, four new holiday movies to get you in the holiday spirit.
"Journey Back to Christmas"
The first of Hallmark's four new holiday movies airs on November 25 at 8 pm. Candace Cameron Bure from "Full House" will play the role of Hannah in "Journey Back to Christmas."
Hannah is a time-traveling nurse who leaves the wretched World World II era for a trip to 2016.
She eventually meets a man named Jake who is played by Oliver Hudson from "Nashville." Jake comforts Hannah and "helps her discover the bonds of family and that the true meaning of Christmas is timeless."
Count me in, Hallmark.
"Broadcasting Christmas"
The second movie "Broadcasting Christmas" airs November 27 and features Melissa Joan Hart who plays the role of Emily, a TV host in constant competition with a man named Charlie.
The holiday film captures Emily and Charlie competing to land the task of hosting alongside Veronika, a famous TV host. Veronika's role is played by Jackée Harry.
"Broadcasting Christmas" is centered around TV hosts covering the "most meaningful Christmas stories on the local news," according to Hallmark.
In the process, Emily realizes that there is more of a meaning to her existence than her dream job.
"Christmas Angel in Training"
This year's Hallmark Hall of Fame movie titled "Christmas Angel in Training" features "Sex And The City's" Kristin Davis who plays Eve Morgan, an angel who lived a life as a workaholic before she died.
Throughout the film, Eve Morgan uses heaven as her training gym to become a Christmas angel as she works alongside a guardian angel, played by Shirley MacLaine.
Christmas angels don't have it easy, apparently. Eve is tasked with providing guidance to a struggling singer named Max, played by Eric McCormack from "Will & Grace."
In a description about the film, Hallmark stated,
As Max begins to overcome his issues, Eve begins to embrace the meaning of Christmas, heal wounds of her own, and perhaps find love along the way.
Sounds like a merry Christmas to me!
"A Dream of Christmas"
Still up for more holiday movie-watching? Good. "A Dream of Christmas" airs on December 3 at 8 pm. The film introduces viewers to Penny, played by Nikki DeLoach from "CSI."
Penny's character is a young married woman living the average life until she's granted one Christmas wish: the single life. Penny lives life as single woman with a sick job, a fast car and NO husband. What could go wrong?
Apparently, a lot, or at least enough to make Penny eagerly hunt down her ex-husband.
It's safe to say your DVR is going to be just as busy as you'll be this holiday season. Happy watching!
Get Hallmark's full "Countdown to Christmas" movie schedule here.
Citations: The Hallmark Channel Just Announced Four More Brand-New Holiday Movies (Cosmopolitan)