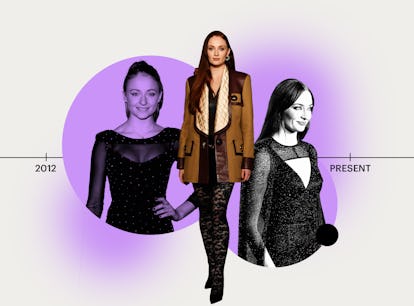 Sophie Turner's Style Evolution Is A Masterclass In Cool Girl Chic
Whether she's playing House of Stark noblewoman Sansa Stark or Dark Phoenix Jean Grey, one thing to know about Sophie Turner is she is a powerful, badass woman, on and off screen. Throughout the course of her career, fans have watched her rise to the throne, control fire, and slay enemies in combat; IRL, she slays the red carpet, nails effortlessly cool street style, and sets major trends (still living for those blunt bangs). Looking back at Turner's style evolution, it's clear she has always ate and she's showing no signs of stopping.
The UK-born star made her acting debut on Game of Thrones in 2011 when she was 14 years old, and has been serving looks ever since. At the start of her career, she kept her red carpet looks cute and classic, but as her star power grew, so did her glam. By the 2019 Met Gala, she showed how much she was willing to experiment with colors, textures, and silhouettes in a colorful sequin catsuit by Louis Vuitton. As an ambassador for the brand, Turner's sported quite a few high-fashion LV looks in recent years. For her personal style, though, she keeps it pretty relaxed and casual. Definitely a juxtaposition, yet both work in her favor.
Below, you'll find Sophie Turner's style evolution, from one of her first red carpets in 2012 to one of her most recent headline-making dinners with Taylor Swift.