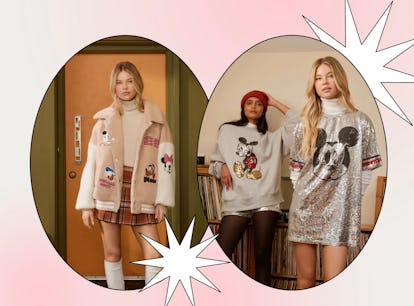 Forever 21's Disney-Inspired Holiday Collection Is Retro Chic & Cozy
Channel Taylor Swift's collegiate and blokette styles this winter.
With all the parties and family get-togethers already on your calendar, you're going to need some new festive 'fits ASAP. For a mix of nostalgia and glam, two of your faves have teamed up for a sparkling new launch that'll liven up your winter rotation: Forever 21's new Disney collection, available in stores on Thursday, Oct. 26, is the duo's first-ever holiday collab and it covers everything, including clothes, accessories, and even home decor.
The limited-edition line is so extensive that you can find a fuzzy Mickey Mouse and Friends jacket to keep you warm throughout the snowy months, while also adding some gifts for your Disney-loving besties to your cart. Celebrating Disney's 100th anniversary, this holiday collection takes inspo from the '90s to create modern collegiate vibes. It even has a touch of the blokette aesthetic that Taylor Swift has been embracing lately at Travis Kelce's football games.
While the Forever 21 x Barbie collection was all about the summer and the brand's fall Hello Kitty collection was more emo, this Disney line is the complete opposite, channeling the most popular kids on the winter break ski trip, with its timeless and versatile styles. Every item in the collection was designed to work well with each other, so you can mix and match pieces. To make it easier to put together an OOTD, there are even a few two-, three- and four-piece sets.
CEO of Forever 21 Winnie Park says the collection as a whole has a "fantastic mix of cozy and shine that you can dress up or down, making it perfect for the holidays." This means you can start your day off sipping coffee in Disney pajamas and Mickey Mouse socks, then change into a Donald Duck crewneck or Bambi flannel jacket before going out.
Other characters you might find on the apparel — which includes traditional women's, men's, kids', and plus options — footwear, jewelry, and bags include Goofy, Marie from The Aristocats, and Thumper from Bambi.
Some adorable must-haves include a letterman jacket, tees, and holiday sweaters with prices from $9 to $90. It's so affordable that you might even find some Secret Santa gifts that work within your budget.
Early access to the Disney-inspired line begins on Forever 21's mobile app, starting Tuesday, Oct. 24. If you don't have the app, no worries. The full collection will be available just two days later, both online at Forever21.com and in stores, on Oct. 26.