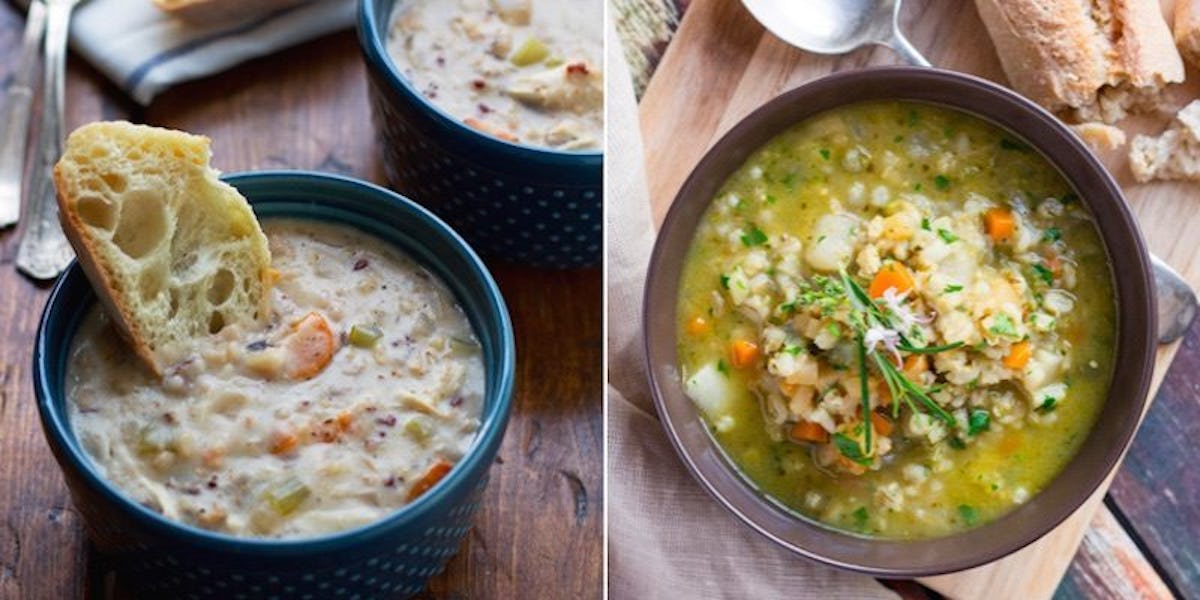 27 Insanely Delicious Soups That Will Keep You Cozy All Winter Long
Little Spice Jar The Cooks Pyjamas
Soup is probably one of the most under-appreciated foods out there.
Oftentimes, we disregard soups' ability to hold their own as entrées, casting them off to the side as pregames to tide us over until the main meals arrive.
But soup deserves more credit than just being an appetizer or something you only eat when you have the sniffles.
Yep, if you ask me, soup is pretty damn delicious and one of the most versatile foods out there, so it definitely deserves some space in the main-course spotlight.
Plus, I'm always an advocate for anything that lets you lick the bowl when you're done.
There are all sorts of insanely tasty soups out there to fill you up and keep you warm -- from healthy soups packed with veggies and pots filled with comfort-food classics to substantial stews and bowls brimming with noodles.
So, in order to help you step up your soup game, we set out to find a bunch of mouthwatering soup recipes perfect for sweater weather.
Take a look at the pictures below to see soups that will keep you cozy all winter long.
1. Vegan Buffalo Cauliflower Chowder with Herbed Crostini
2. Mac and Cheese Soup
3. Vegetable Lasagna Soup
4. Italian Meatball Minestrone Soup
5. Carrot, Lentil & Squash Soup with Walnut Croutons
6. Creamy Chicken Wild Rice Soup
7. Fresh Spinach Tomato and Garlic Tortellini Soup
8. Hearty Split Pea & Smoky Bacon Soup
9. Shrimp Wonton Soup
10. French Onion Soup with Cheesy French Toast
11. Spicy Sriracha Lime Chicken Zoodle Soup
12. Hearty Winter Vegetable Soup
13. Sweet Potato Sriracha Noodle Soup
14. Cheeseburger Soup
15. Loaded Veggie Nacho Soup
16. Cheesy Potato Soup
17. Duck Ramen
18. Bacon-Cheddar Cauliflower Chowder
19. Thai Curry Lentil & Sweet Potato Soup
20. Creamy Tomato Soup with Grilled Cheese "Croutons"
21. Mexican Chicken Noodle Soup
22. Vegetarian Quinoa Chili
23. Mushroom Quinoa Soup
24. Taiwanese Beef Noodle Soup
25. Roasted Broccoli + Cauliflower Soup
26. Chicken Noodle Harvest Vegetable Soup
27. Spicy Chicken Sausage White Bean Beer Chili