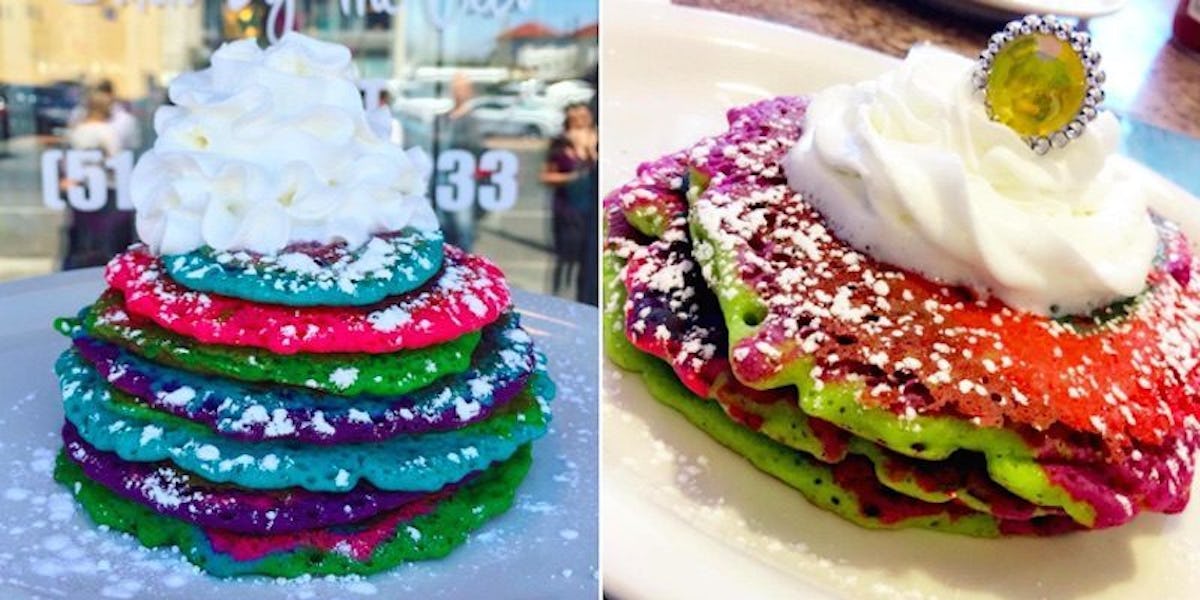 These Delicious Tie Dye Pancakes Will Seriously Brighten Up Your Mornings
If you've been paying attention to the latest trends, you probably noticed rainbow is having a serious moment.
Yep, rainbow is basically the new glitter, and I think it's safe to say this trend isn't going anywhere anytime soon.
From multi-colored lashes and makeup palettes to a myriad of Lisa Frank-inspired foods -- it seems like people are finding all sorts of creative ways to embrace their inner unicorns these days.
Not too long ago, we showed you some bright, colorful breakfast bites fit for a flower-crowned Coachella queen.
If those magical rainbow bagels and eye-catching cups of coffee made all of your delicious dreams come true, you'll be glad to know we just came across a new food that definitely deserves a spot on your bougie breakfast lineup.
Say "hello" to our newest food obsession, Tie Dye Pancakes.
If you ask me, these fluorescent flapjacks serve as living proof the powers of tie dye go way beyond making some sh*tty T-shirts at summer camp.
Apparently, these mouthwatering monstrosities were created by Diner By The Sea, a restaurant located in Long Beach, New York.
Trust me, once you start your day off with this brilliant breakfast, you'll never be able to go back to eating boring, old blueberry pancakes ever again.
Take a look at the pictures below to see this badass tie-dye breakfast.
Your mornings are about to get a whole lot brighter...
...because one of your favorite breakfast foods just jumped on the rainbow bandwagon.
Behold, Tie Dye Pancakes.
That's right. Rainbow-colored pancakes actually exist IRL...
...and this Lisa Frank-inspired food is the snack you never knew you needed in your life.
Apparently, Diner By The Sea, a restaurant based in Long Beach, NY...
Is responsible for this brilliant breakfast idea...
...and there's no denying these fluorescent flapjacks look tasty AF.
Each stack of color-swirled pancakes comes smothered in powdered sugar and syrup...
...plus some whipped cream on top for good measure.
If this magical meal isn't enough to make all your dreams come true...
You can also order this baby with a magical tie dye milkshake...
...and create the ultimate matching rainbow meal.
I know, what a time to be alive.