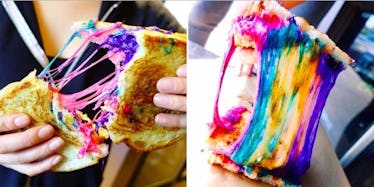 You Can Now Get One Of Those Insane Rainbow Grilled Cheeses In The US
Not too long ago, we introduced you to the glorious rainbow grilled cheese.
Unfortunately, this epic treat was invented by KALA Toast, which happens to be inconveniently located in Hong Kong.
So if you're like most of us foodie folks living in the US, there's a good chance you've been simultaneously crying and salivating over the colorful melty cheese pics on your Instagram feed, as you choke down some sad, sh*tty, non-rainbow sandwiches.
Yep, there's nothing worse than suffering from a seriously bad case of food FOMO.
However, you might want to use your toasty bread to soak up some of those tears and pay attention to what I'm about to tell you.
Apparently, you don't have to go halfway across the world to get your hands on one of these mythical mouthwatering snacks.
You just have to take a trip to La La Land.
That's right. The California restaurant Chomp Eatery & Juice Station just made all of our delicious dreams come true by creating its very own version of the almighty rainbow grilled cheese.
Say "hello" to the Unicorn Melt.
This spectacular grilled cheese sandwich is made with "unicorn milk" (aka a blend of white American and provolone cheeses) and a sprinkle of magic (food coloring), along with some toasted sourdough bread, and there's no denying this thing looks just as tasty as its foreign predecessor.
Take a look at the pictures below to see this awesome multicolored sandwich.
If you thought you had to go all the way to Hong Kong to sink your teeth into a rainbow grilled cheese, think again.
It turns out, you can score one of these glorious grilled cheeses in Santa Monica...
...because Chomp Eatery just created its very own rainbow grilled cheese, fittingly called the Unicorn Melt.
Yep, it's pretty much like a little piece of heaven nestled between two slices of bread.
I mean, seriously, just look at this melty, gooey, multicolored cheese sandwich in action.
This magical monstrosity looks so damn amazing, it's hard to believe it could actually exist IRL.
Now you're probably wondering, how the hell does one make a mythical grilled cheese sandwich?
Apparently, the secret to this mesmerizing snack lies in the ingredients. It's made with "unicorn milk"...
...or, in non-magical terms, a tasty blend of cheeses.
The cheese is placed between two slices of toasted sourdough bread...
...and a little bit of delicious magic is thrown in, of course!
Did I mention this place also has cheesy bacon tots, to boot?!
I guess dreams really do come true, after all.
Citations: Chomp Eatery (Instagram)