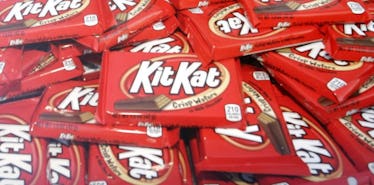 Amazing Chocolate-Stuffed Kit Kats Prove You Can Have Your Cake And Eat It Too
REX/Shutterstock
Everyone's inner Augustus Gloop delights at the thought of a piece of chocolate. Naturally, when news about an already chocolatey treat suggests even more chocolate is being added to the mix, Willy Wonka should just sound the alarms. A cake-stuffed Kit Kat has hit the shelves, and naturally, it's the perfect excuse to have your cake and eat it, too.
These glorious bad boys are every candy lover's dream — a chocolate exterior plus a soft and chewy piece of cake in the middle.
Say it with me, "Mmmm!"
The limited-edition Chocolatory Gateau Mignon Kit Kats have arrived on the heels of other exciting releases for the candy, such as the the sushi Kit Kats that offer you the best of the dessert and dinner combined. In my opinion, the combo is just odd enough to work. Why yes, I do fancy a Maguro sushi roll on white chocolate-covered puffed rice, thanks!
But back to the chocolate, because that's why you're here.
The Chocolatory Gateau Mignon Kit Kats are sold in threes and cost $13 per box. Though a bit pricer than the usual candy bar, it's obviously worth the splurge since you're being treated to cake as well.
However, before you reach for your wallet, keep in mind that the Chocolatory Gateau Mignon Kit Kats are a lot like the sushi Kit Kats... in that they're both available exclusively in Japan.
Patissier Yasumasa Takagi created the magic-in-your-mouth offering, and it's sadly only for sale at the Kit Kat Chocolatory store in Tokyo.
Do you ever feel like the best treats are created in Asia — the Blue Hawaii Frizz from McDonald's in Japan, the all-mermaid-everything cafe in Thailand? You're going to want to hop on Airbnb soon so you can find out how to take advantage of these items. It's a foodie's paradise!
For those who aren't in Japan, take comfort in the fact that Cookie Butter Oreos are possibly on the way and Sugarfina is offering tequila-infused chocolate for those looking for a 21+ treat. But Tokyo, if you're willing to send the Chocolatory Gateau Mignon Kit Kats, no one will complain!