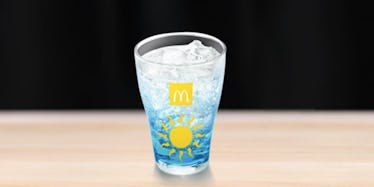 McDonald's Blue Hawaii McFizz Is Bringing Pretty Ombre Drinks To The Next Level
McDonald's
McDonald's is really staying true to its "I'm lovin' it" motto.
The latest menu item that has us totally infatuated is the The Blue Hawaii McFizz — a blue-green ombré blend that's almost too pretty to drink (almost).
Summer is upon us, and there's no better time to indulge in this concoction of Sprite, colored syrup, and a splash of apple juice. If you're planning on ordering a Free Tea Friday drink, it's time to switch things up.
But before you head to your local McDonald's, be aware that the Blue Hawaii McFizz is part of Japan's Loco Moco Summer Menu, so don't expect to see it on your menu.
However, now that you know the ingredients, you might as well tell cashiers what you're craving. Perhaps they'll be able to whip up the treat for you. If you're feeling really adventurous, ask for a bit of ice cream, too.
Don't sit and sulk — there's plenty to love about McDonald's in the US... especially this Sunday. On National Ice Cream Day — July 16 — Mickey D's is allowing its fans to treat themselves to a free cone. If you download the McDonald's mobile app and redeem the free cone coupon under "my deals," all you need to do is head toward the golden arches and you're good to go.
What's even better than free ice cream? A lifetime supply of free soft serve. McDonald's is not only gifting us with free cones, but is giving loyal customers a chance to score free ice cream for the rest of his or her life. One lucky winner who scores the golden cone at the drive-thru will win unlimited cones... forever. Cue the Willy Wonka music here.
We can't help but love the fact that McDonald's has worked hard to make its ice cream healthier than ever. Its soft serve no longer contains any artificial flavors, colors, or preservatives, so digging right in will be easier than ever.
This transition affects 60 percent of the fast-food chain's desserts — like the McFlurry and McCafé — and has now made its way to nearly all the 14,000-plus stores nationwide.
These are all reasons to celebrate, so we'll catch you at the drive-thru.