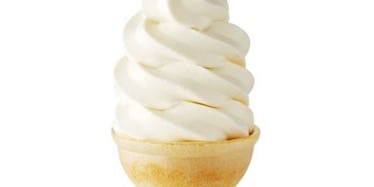 Here's How To Win Free McDonald's Soft Serve Ice Cream For The Rest Of Your Life
McDonald's
If you always fancy a soft serve cone after lunch, you're in luck — McDonald's is giving you a chance to score free ice cream for the rest of your life.
No, your eyes are not playing tricks on you. There's an opportunity to get your hands on free soft serve goodness for the rest of your existence.
Don't even bother trying to count the number of cones that'll actually amount to. (Hint: It's a lot.)
Before you start salivating at the thought of a lifetime's worth of dessert, let's start with 2017's National Ice Cream Day this weekend.
There's no better way to participate in the lovely holiday on Sunday, July 16 than to hit the drive-thru. If you download the McDonald's mobile app and redeem the free cone coupon under "my deals," all you need to do is head toward the arches and you're golden (see what I did there?).
One lucky winner will receive the highly sought-after gold cone, which scores the lifetime supply of free ice cream. It's an intense amount of pressure, but it could be you.
Sunday is going to be straight up out of Willy Wonka. 
Even if you aren't the lucky customer who receives the coveted prize, there's no better time to get in on the soft serve action: McDonald's just revealed that its ice cream no longer contains any artificial flavors, colors, or preservatives. This transition affects 60 percent of the fast-food chain's desserts, including the McFlurry and McCafé shake, so the healthier options are not limited to one item.
This intro has now made its way to nearly all the 14,000-plus stores nationwide, so it's definitely a step in the right direction.
Tread lightly when you vie for the golden cone. Don't get overly excited like August Gloop... and definitely don't get pushy like Veruca Salt or Violet Beauregarde.