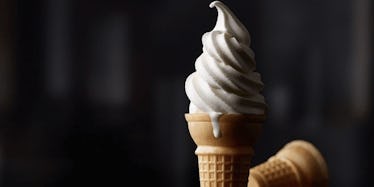 McDonald's New Soft Serve Ice Cream Recipe Is So Healthy, We Need A Cone ASAP
McDonald's
There's more reason now than ever to treat yourself to a soft serve cone after you've finished your lunch at McDonald's.
The fan-favorite option — a close rival to the beloved fries, in my opinion — no longer contains any artificial flavors, colors, or preservatives, so digging right in will be easier than ever. Considering customers indulged in 68 million cones last year, according to a McDonald's press release,  it's safe to say many people will appreciate this guilt-free move.
If you're more in favor of a McFlurry or McCafé shake rather than a cone, you're in luck. This transition affects 60 percent of the fast-food chain's desserts, so feel free to switch it up a bit.
Even better news? This soft serve intro has now made its way to nearly all the 14,000-plus stores nationwide.
"We've been raising the bar at McDonald's on serving delicious food that our customers can feel good about eating," Darci Forrest, senior director of menu innovation at McDonald's, said in a statement.
To make the celebration all the more sweet, McDonald's begun its #SoftServed campaign on Twitter on Monday, July 10. Flipping the "you got served" saying on its head, the fast-food chain will dedicate the next 24 hours to spreading positive and thoughtful messages on Twitter to those who use the #softserved hashtag.
Things kicked off from 4 a.m. to 8 a.m. ET today with sweet notifications for Twitter users. Check out the ones for yours truly and my lovely editor, Amanda Fama. So sweet, right?! These messages are just as sweet as a vanilla cone and we're eating them up.
To keep the fun going, McDonald's is offering its customers a chance to score a free vanilla cone on National Ice Cream Day this Sunday, July 16.
In order to enjoy the treat, customers need to redeem the "free soft serve cone" offer on the McDonald's mobile app. Happy snacking, everyone!