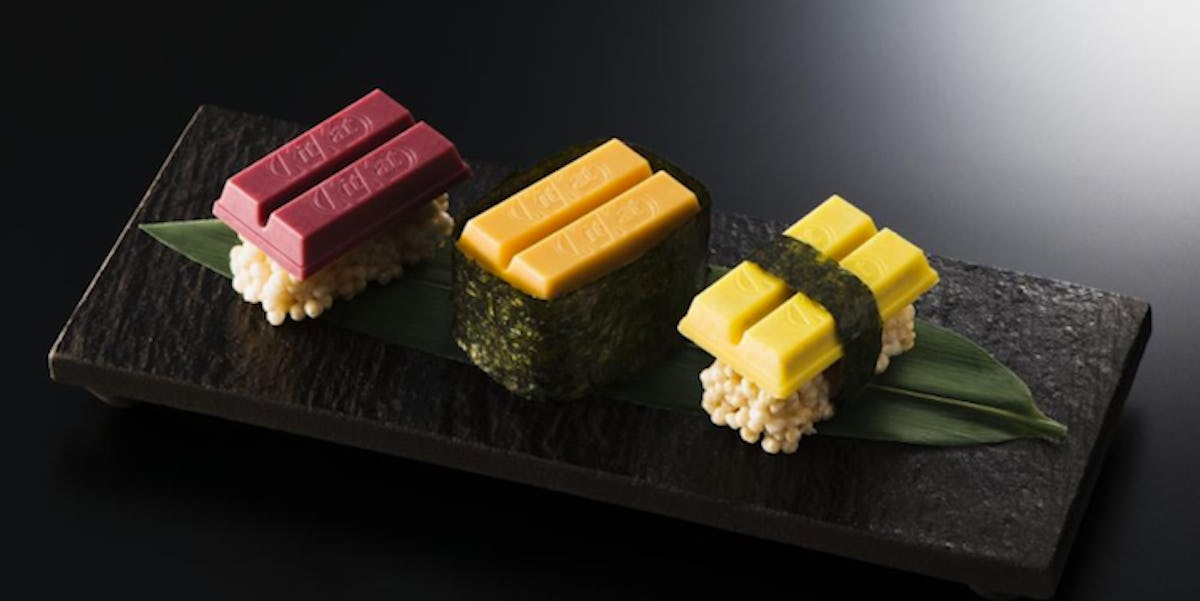 These Kit Kat Sushi Flavors Were A Joke At First, But Now They're Happening
Kit Kat Japan
Bridging the massive gap between sushi and just about any other food that exists seems to be all the rage these days.
Earlier this week, we were introduced to a bizarre concoction: sushi croissants. They're exactly what they sound like: fresh-baked croissants stuffed with sushi rolls.
Why does this even exist?! I'm not too sure, but it does.
It's the year 2017 so just expect the best and worst at the same damn time.
Sushi croissants aren't the only sushi concoction making waves in the "foodporn" world, though.
Remember Kit Kat Japan's April Fools' Day joke last year about releasing Kit Kat sushi?
Well, this is NO joke, people.
That's right, Kit Kat sushi is really here and personally, I'm not sure how I feel about it.
According to Kotaku, a Kit Kat specialty store will be opening in the Ginza district of Japan on February 2. The store will offer up various candy creations, most notably Kit Kat sushi.
Each "roll" will come in three different flavors: Uni (sea urchin), Maguro (tuna) and Tamago (egg).
Here's the Uni sushi roll. It features mascarpone cheese and Hokkaido melon-flavored Kit Kats wrapped in seaweed.
Next up is the Maguro sushi roll featuring raspberry-flavored Kit Kats served on white chocolate-covered puffed rice.
Lastly, the Tamago sushi roll features pumpkin pudding-flavored Kit Kat bars served on puffed rice covered in white chocolate. The finishing touch? Seaweed, of course!
If you're looking to get your grubby paws on some of this sweet, sweet sushi, you're going to want to book your flight to Japan as soon as possible and make sure you get to Ginza by February 2 (AKA Groundhog's Day).
The limited edition sushi treats will be sold from February 2 until February 4 for about 3,000 yen ($26). Act now!
Citations: Japan Now Has Kit Kat...Sushi (Kotaku)