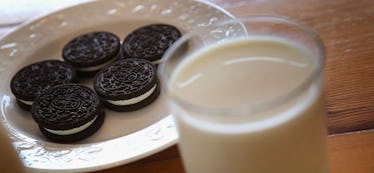 Cookie Butter Oreos Might Be Coming Soon And We Can Already Taste The Sweetness
Scott Olson/ Getty Images
Whatever you're doing right now can 100 percent wait, because guess what? Cookie Butter Oreos might be coming soon to supermarket shelves near you, according to popular Instagram food blogger Markie Devo. The limited edition sandwich cookies, housed inside ultra tempting packaging, appear to feature a buttery filling in between two light brown cookies. I need to try them.
Junk Banter reports that these very real Oreos (remember when that fake mockup of the same flavor went viral in 2016?) will debut "sometime in September."
In their post about the exciting junk food news, they attempted to decipher the blurry words on the low-resolution picture, writing,
If I squint my eyes to the limits of human capability, it appears they say 'cinnamon' cookie with cookie butter flavored cream. It could also say 'graham.' Doesn't matter, my eyes are blinded with excitement and lust.
In every sense of the word, same.
Oreo hasn't yet confirmed or denied the Cookie Butter flavor's existence, but if it does turn out to be a real-life product, you can bet Speculaas fans everywhere are going to fall in love.
Twitter is already mildly freaking out, because... COOKIE BUTTER OREOS.
Some People, Like Me, Were Like, "Omg Really?!"
Others Already Dip Their Oreos In Cookie Butter As It Is.
So this new addition will just elevate that familiar spice-filled flavor. (Also, what a genius idea, to be honest.)
It's URGENT:
August is just a few days away, which means it won't be too long before it's September. Then, we can (hopefully) tear open a delicious package of Cookie Butter Oreos.
While we wait for that moment of glory, let me remind you of another recently released Oreo flavor: Mocha. Made in partnership with Dunkin' Donuts, they're also limited edition and taste like your favorite morning bev.
Keep doing you, Oreo.