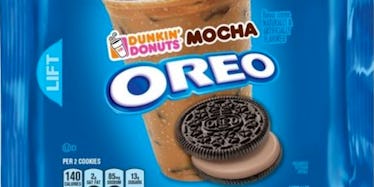 Oreo & Dunkin' Donuts Released Mocha-Flavored Oreos To Fuel Our Coffee Addiction
Oreo
We're all in celebration mode this July 4 weekend, so you've probably indulged in quite a few Firework Oreos (no judgment, it's a holiday).
If you're ready to explore a new flavor post-barbecue, Oreo and Dunkin' Donuts — the dream team if ever there was one — gifted us with mocha-flavored cookies to give us that extra jolt we crave every morning.
A cup of joe and a cookie all in one? We'll take it!
According to Cosmopolitan, The Junk Food Aisle Instagram account got us hyped for a possible coffee-cookie collaboration between Dunkin' and Oreo back in April. We naturally freaked out at the thought and hoped this was true.
Here's the mockup they teased us with months ago — and it's pretty spot-on.
Get excited, because the flavor officially hits stores July 3, so if you really want to be the favorite at your Independence Day celebration, you'll bring the Firework and Mocha Oreo. If you're one of the lucky ones who scored a box of the re-released Blueberry Pie Oreos, even better.
Obviously, your invite for next year will be a guarantee if you show up with all of those lovely treats.
If coffee in your cookie isn't enough to put you in a good mood, perhaps the results of the Oreo flavor contest will get you pumped for new treats.
According to Cosmo, some of the flavors that have resulted from the May contest include unicorn (are we surprised?), popcorn, cherry cola, and — naturally — avocado. What do you think about those? Are you ready for a guac-flavored cookie?
So there's definitely a lot to look forward to if you have a sweet tooth.
Whether you're feasting on a sleeve of Mocha Oreos — or maybe you're holding out for the popcorn-flavored treats on your next movie night — we're sure you're having fun channeling your inner Cookie Monster.
Happy snacking, everyone!