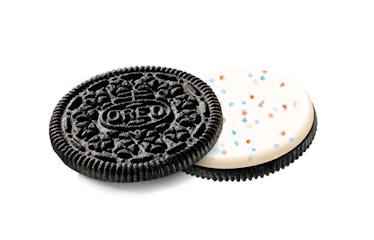 Oreo Just Released A New Flavor And It's The Perfect Treat For Summer
OREO
Oreo has done it again.
The Oreo Wonder Vault just made all our Mondays a whole lot sweeter by announcing a limited-edition flavor just in time for summer.
The newest Oreo flavor is... drumroll please...
Firework!
Featuring a chocolate cookie wafer and a popping candy filling, Firework Oreos are the perfect addition to all your summer celebrations.
They're also perfect for keeping at your desk at work, so you can pop a few around 3 pm when you're crashing and suddenly remember how you used to be a kid who didn't have to do anything all summer long... but now you are an adult and have to do things like work and pay rent. Good cry and a cookie, anyone?
Anyway, back to the cookies. I got to taste the Firework Oreos and I have to say I approve. I mean, what's not to love?
You've got your traditional chocolatey Oreo cookie shell and then a filling that is like your ordinary vanilla but with a kick of extra sweet candy taste.
Basically when you eat one, Katy Perry's song immediately starts playing.
It's not like I ever need a reason to go to the store and pick up a pack of Oreos, but when there's a new flavor out, I mean, how can you not?
Oreo's newest creation isn't the only news I have to share with you today, though. For the first time ever, the cookie creator wants to put the power in your hands.
Starting today, you can enter the #MyOreoCreation contest for your chance to choose a flavor that will actually appear in stores in 2018. The winner also gets $500,000 and VIP access to upcoming releases and top-secret prototypes.
So far, Oreo has given us flavors like Cinnamon Bun, Strawberry Shortcake, Blueberry Pie and even Swedish Fish, but the sky is really the limit now.
Fans in the US can submit their ideas now through July 14 via Instagram or Twitter using #MyOreoCreation and #Contest.
Good luck and happy snacking!