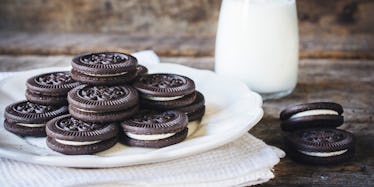 Oreo Just Unveiled Two Limited-Edition Flavors And They Look Incredible
Shutterstock
Over the past year or so, we've seen Oreo get creative with its classic confections and crank out all sorts of new flavors.
First, Oreo answered all of our summertime prayers by putting a s'mores-inspired spin on the signature snack.
Then, the company blew all of our damn minds by giving its cookies a birthday cake-inspired makeover.
Now, Oreo is back at it again, and this time, it's blessing us with two new mouthwatering flavors: Blueberry Pie and Fruity Crisp.
That's right. Just when you thought your beloved cookies couldn't get any better, Oreo did the unthinkable and unveiled these limited-edition flavors that are basically guaranteed to bring back sweet memories of your favorite childhood eats.
If you're looking to get your hands on a couple boxes of these cookies, you'll be able to find the Blueberry Pie Oreo flavor at Target beginning June 6, while the Fruity Crisp Oreos will be available at Wegmans, Winn-Dixie and Price Chopper starting June 1.
Check out the pictures below for a closer look at these tasty new Oreo flavors.
Nabisco just made all of our childhood snack dreams come true by unveiling two new Oreo flavors. Now you can swap out your chocolate wafers for some badass Blueberry Pie Oreos...
...or stuff your face with some Fruity Crisp Oreo cookies.
So this is a thing that exists pic.twitter.com/EZ3Wu06T70 — Marie Wold (@mariewoldfit) May 15, 2016
While some cookie connoisseurs seem a bit skeptical about these creative cookie flavors...
Blueberry pie Oreos may bang. Fruity Pebble Oreos seem like they be an awkward eat... — Cuban B (@MeWeFree) May 23, 2016
...most people seem like they're pretty damn excited over the thought of eating Oreos that come with a side of sweet snack nostalgia.
They have blueberry pie oreos now?! Dead. — Amanda Bakko (@MandaPandaa812) May 24, 2016
However, it turns out these bad boys may not be the only bougie flavors Oreo has up its cookie sleeves.
@trashwife BLUEBERRY PIE OREOS https://t.co/3nroYuC2wJ — madmatt213 (@madmatt213) May 23, 2016
Twitter users spilled the beans on some juicy gossip and revealed Oreo might also be releasing another novel flavor in the near future.
Holy crap, we're getting Blueberry Pie and SWEDISH FISH Oreos later this year. — DrizzyDave (@Schraderbrau88) May 17, 2016
Yep, rumor has it you might soon be able to score some Swedish Fish flavored Oreos in the snack aisle, too. But until then, make sure you stock up on its latest fruity flavors, only available for a limited time.
Blueberry Pie and Swedish Fish Oreos are coming... #JunkBanter — Rach (@RachelPungan) May 14, 2016
Citations: Oreo Unveils Two (!) New Flavors That Are Basically Childhood in a Cookie (PEOPLE)