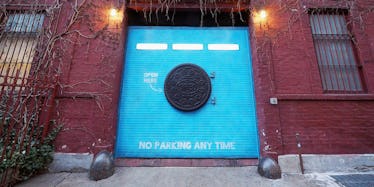 Yes, There's A Secret Oreo Wonder Vault Full Of Free Cookies
Weber Shandwick
I would consider myself a casual lover of Oreos.
I don't go out of my way to buy them, but if someone offers me some, I'm sure as hell not gonna hesitate to take about five more than he or she wanted me to.
So when I got an email inviting me to visit the SECRET OREO VAULT for the new flavor unveiling, I was pretty pumped.
But I also had a lot of questions. Is it really a vault? Is the vault shaped like an Oreo? Is it filled with stacks of individual Oreos, like a bank account with gold coins except they're Oreos? (That is honestly what I pictured.)
But the most important question: What would be the newest, limited-edition flavor? (After some Googling, I found the more relevant question was perhaps: What hasn't been an Oreo flavor?)
The Wonder Vault, as Oreo calls it, already opened up metaphorically once this year, when the company introduced Cinnamon Bun and brought back Red Velvet.
I asked/bribed (with Oreos) my co-workers to help me guess what the new-new flavor might be, and here's what we came up with: Strawberries 'n Cream, Sriracha, Reuben, Honey Barbecue, Salted Caramel, Rainbow Cannoli, Blueberry Pancake, Honey Greek Yogurt and Sour Cream 'n Onion.
I was ready for anything.
The day of my visit, I woke up nervous and tired. Tired because I was up an hour earlier than usual for the driver from Oreo to pick me up at 7:30 am. Nervous because Oreo was sending a freakin' DRIVER to pick me up. And that meant small talk.
The fanciest car I've ever been in (a Mercedes-Benz) picked me up at my apartment in Harlem, and I had a nice chat with the driver, a guy named Domingo. Domingo told me about how his family moved to NYC from the Dominican Republic 30 years ago, and I told him about how I was nervous for my first time field reporting at my new job. Domingo encouraged me to keep a positive attitude.
I asked Domingo what he thought the new Oreo flavor would be. He responded,
You mean the cookie? I don't know. Chocolate?
A good guess, but I think Oreo might already have that flavor, Domingo.
Finally we arrived at the much anticipated OREO WONDER VAULT! The first thing I saw was a small crowd of people mingling on the sidewalk. "Huh," I thought to myself, "Maybe they're not letting people inside yet?"
Nope. Turns out there was no inside to be let into. The super-secret Oreo vault is... a very nicely decorated garage on 18th Street!
But, here's the good news. There WAS a swinging Oreo door! This is a much nicer photograph Oreo emailed me after my visit.
Taking it in stride, I approached the Wonder Vault, eager to learn what secrets were inside.
When I peered in, I saw a projected screen encouraging me to pull the big red lever in front of me. I did, and after a short video presentation of Oreos floating down a milk river (classic), a little box of Oreos slid down a conveyer belt and landed at my fingertips.
AT LAST! THE NEW OREO FLAVOR WAS IN MY HANDS.
And now, the moment you've all skipped ahead to find out. The new flavor is... FILLED CUPCAKE! So none of us guessed it correctly, but in our defense, it was a toughie. (Is cupcake a flavor? Cupcakes HAVE flavors.)
I did my journalistic duty and taste-tested the cookies for you. My review: 10/10, great cookie, would eat 10 in one sitting again.
The outer cookie is the normal Oreo wafer, but the filling is a chocolate-y fudge flavor with a marshmallow surprise in the center. I'm going to go ahead and state on the record these might be even better than the originals.
These bad boys will hit shelves nationwide on February 8, and they're LIMITED EDITION, which means they are only available while supplies last. So make sure you get in on this, because trust me, it's worth it.
BTW, the Wonder Vault is only a temporary thing. It went up this morning and will be taken down at 6 pm this evening. The real Oreo magic happens in New Jersey. Today was just a fun promotion for the new flavor. So it does exist, just, ephemerally.
But if you're in New York City today, February 2, head over to 18th Street between Seventh and Eighth Avenues for your own look into the vault (and free cookies!).
I would like to thank Oreo for allowing me to get a glimpse of this wondrous vault, and also Domingo for getting me there and encouraging my dreams.
Now excuse me, I have a lot of free samples to eat.
Me n the vault pic.twitter.com/NVCguCAJxW — Anna Menta (@annalikestweets) February 2, 2016