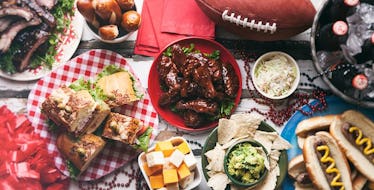 10 Heavenly Chicken Wings Recipes For Your Next Super Bowl Party
Chicken wings are super popular in fast food establishments, yet when it comes to cooking them at home, most people avoid them. That's a pity because there are so many great recipes you can try with wings.
However, cooking chicken wings can get pretty messy, especially when you're frying them. To solve this greasy problem and save some time, you can always bake the chicken wings. Then, when it comes to the marinade and seasoning, everything is possible.
Chicken wings are some of the best recipes a busy girl can make, thanks to their speedy cook time and their delicious taste. Not convinced? Try one of these dishes out, and you'll never doubt the effectiveness of a good wings recipe again.
Brazilians have brought us a lot of great things, like the famous wax and the even-more-famous fitness program, but they also know how to cook a damn good meal.
When it comes to chicken wings, they know their stuff. These wings are marinated overnight, so they're going to be juicy and spicy. After you fry them, they'll have a crunchy coat, perfect for dipping the wings in a sauce.
If you're afraid to make a mess out of your kitchen while frying the chicken wings, this is the recipe you're looking for because the wings are baked. The recipe also includes a delicious and versatile sauce, one that'll delight even the pickiest eater.
Chicken wings are also delicious with a ton of BBQ sauce. Add some honey and a healthy dose of joy and you've got yourself a delicious recipe. Plus, despite the name of the recipe, you can cook the wings both on a grill and in a pan.
Indian food is known for its spicy taste, which translates well with wings. This recipe is a mix of American chicken wings and Indian flavors. You can use a yogurt sauce or another chillier sauce to cool down the spicy wings.
Another cultural mix, this recipe adds a Thai kick to chicken wings. What I really like about it how you can make just one mixture, which doubles as the sauce and the marinade. Just divide the mixture in half and use it accordingly.
These wings will remind you of Italian cuisine. The wings are juicy and flavored with oregano, rosemary and cumin. Then parmesan cheese, garlic and basil leaves are tossed in to complete the recipe.
The recipe takes just minutes to prepare and there's no frying involved, so your kitchen will stay clean and your food will be ready in no time.
This is a simple recipe, where all you have to do is bake the chicken wings in some oil. The high baking temperature will make them crispy, holding all the juices inside.
The really interesting part comes at the end, when you spoil them with melted butter and lemon-pepper spices.
We all love buffalo wings, but this recipe will make you love them even more. Bacon, cheese and wings -- yup, sounds like a winner to me.
Serve the wings with a creamy sauce, like homemade ranch sauce, and you'll impress everyone at your Super Bowl party.
If you have plums, you have to try this simple recipe. The plum sauce can be spiced up with some pepper if you need a sweet-spicy balance. The sesame seeds then complete this exotic take on wings.
Peanut butter and jelly are already the perfect combo, but pair them with another all-time American favorite like chicken wings and you have the ultimate snack.