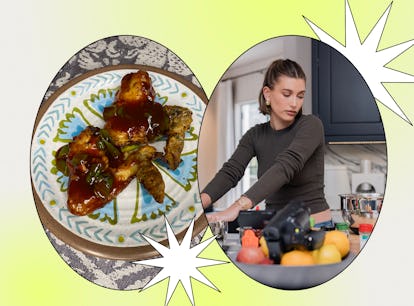 I Made Hailey Bieber's Viral Air Fryer Chicken Wing Recipe
These wings got the sauce.
Rachel Chapman/HexClad/Elite Daily
Before heading off to the desert for Coachella, Hailey Bieber dropped the third episode of her cooking series, What's In My Kitchen?, on YouTube. The glaze skin guru has previously shared her chocolate protein pancakes recipe, but with summer barbecues around the corner, she decided it was time for her go-to chicken wings recipe. Instead of deep frying her wings in oil, Bieber actually uses TikTok's fave kitchen tool — an air fryer. It took me forever, but I finally jumped on the air fryer bandwagon and got myself a super cute teal one that needed to be broken in. So, naturally, I decided to try Hailey Bieber's chicken wings as my first air fryer recipe.
TBH, chicken wings are one of my favorite things to eat but I've never actually made them myself. The deep frying always seemed a little intimidating, but watching Bieber whip up her spicy barbecue chicken wings at home looked doable for a kitchen novice like me. The recipe consists of three different steps: the marinade, the batter, and the sauce. To make the garlic buttermilk marinade that you soak your chicken wings in, you'll need the following:
2 lbs chickens wings
2 cups buttermilk
1 1/2 tsp Bragg 24 Herbs & Spices
1 tsp onion powder
1 tsp garlic powder
1 tsp garlic salt
1/2 tsp black pepper
The Bragg 24 Herbs & Spices was hard to track down, so I recommend getting it off Amazon or checking your local stores to see if they have it in stock first. Once you have everything, use a large bowl to combine all your marinade ingredients and soak your chicken wings for about two hours in the fridge. A little before it's time to take your wings out, I would start prepping your batter station. In one bowl, you'll need your dry ingredients:
1 cup all-purpose flour
1/2 cup cornstarch
1 tsp Bragg 24 Herbs & Spices
1/2 tsp onion powder
1/2 tsp garlic powder
1/2 tsp garlic salt
1/2 tsp kosher salt
1/4 tsp black pepper
The other bowl will be for two large eggs. Once your chicken is ready, dip each wing into your egg wash before coating in your dry ingredients that are mixed together in another bowl. This was the messiest part of the process, so I recommend having a good system in place. This episode of What's In My Kitchen? is sponsored by HexClad, so Bieber uses their stainless steel mixing bowls. I kind of need to get more than just a few mixing bowls, because this recipe ended up using a lot between the marinade, egg wash, drying coating, and sauce. Just be mindful of that before you start cooking.
Once you have all your wings properly coated in your batter, this is when you can start air frying. Bieber is bougie enough to have two air fryers, which helped to cook everything in a timely manner. With only one air fryer, I was left frying my wings for a couple of hours. This is because you need to fry your wings for 15-20 minutes at 380°F. Make sure to spray your wings and your air fryer bin with avocado oil before, and turn your wings every 5-6 minutes to make sure they're properly cooked on both sides. Once they're a nice golden brown, increase your air fryer temp to 400°F and cook for an additional 5-10 minutes.
Since my air fryer could only fit about four wings at a time, it took over two hours to get through just the cooking. Next, it was sauce time. In another bowl, mix together your barbecue sauce ingredients:
Toss your chicken wings with the sauce and enjoy. You can even top with some extra scallions if you want your wings to be even more Insta-worthy.
Hailey Bieber's Chicken Wings Review
While this recipe did take me hours to pull off, I have to admit Bieber's chicken wings were delicious. The best part was the sauce, though. You might even say this sauce has "the sauce," or an "it" factor about it. The wings on their own were fine, but I thought there would be more flavor from the marinade. I tried a few naked wings and found them to be a bit boring. However, the sweet and spicy blend of the BBQ sauce with Sriracha and honey was amazing.
I kind of want to bottle it up to enjoy with a burger and on hot dogs or even ribs. With summer right around the corner, I may even make some of Bieber's wing sauce to bring to a picnic or backyard barbecue. If you do decide to make these wings yourself, I would recommend cutting down the recipe if you're just cooking for yourself or your roomies. This full recipe made about a dozen chicken wings, which was more than I needed.
Another tip: Both Bieber and I found that dipping the wings into the egg wash, followed by the dry coating, was a little messy. While Bieber didn't mind getting her hands dirty, one fan commented on her video that you should use one hand for egg wash and the other for dry ingredients to help prevent your hands from getting covered in batter. Personally, I wish I saw this hack a little earlier.
Either way, it's a fun recipe to try if you're chilling with friends on a Friday night or watching a football game with your partner. Basically, if you're in the mood for chicken, don't wing it and try Bieber's recipe.