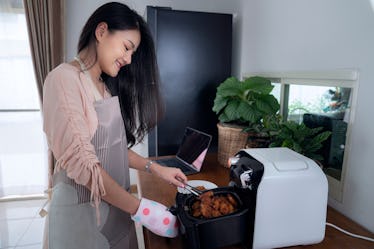 These #AirFryerTok Recipes Are Tasty & So Easy To Make At Home
Adding professional chef to my resume after making steak dinner.
Shutterstock
You might have once considered yourself a newbie in the kitchen, but recently, you've found yourself spending a lot more time cooking meals at home. The one appliance that has been sort of like your bestie in the kitchen is your air fryer. An air fryer makes it so easy to whip up a delicious meal in a matter of minutes, and there are a bunch of air fryer TikTok recipes you need to try. TikTok really is the place to go if you're looking to spruce things up with a creative or trendy dish in less than a minute.
If you've got some time, check out these eight TikTok air fryer recipes that are so easy to follow along with. All you need to do is determine which dish looks tastiest to try first. For a fun breakfast to make first thing in the morning for you and your roomies, try a batch of air fryer donuts. Serve them with whipped coffee for a real TikTok-inspired treat. Or, if you want to bring on the heat for your next at-home date night, there's a complete steak and asparagus dinner recipe to try. With an air fryer and these fun TikTok recipes, you can fry-nally be the Insta-worthy chef you always dreamed of being.
This article was originally published on