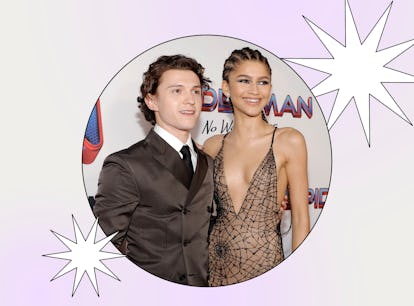 Zendaya & Tom Holland's Relationship Timeline Is Like A Romance Novel
It all started with Spiderman's thin web.
Amy Sussman/Getty Images Entertainment/Getty Images
Romance has been treading on a thin line this summer. Some of Hollywood's most unsuspecting, private, and slightly controversial duos have called it quits, leaving many to wonder what's brewing in the air this season. Fortunately, there have been several couples that have outstood this chaotic breakup period, such as Zendaya and Tom Holland. Their relationship rides the "friends-to-lovers" pipeline that's had social media (ahem, BookTok) in a chokehold for years. And for that, fans can tip their hats to Marvel.
Ever since Zendaya and Tom starred in the MCU's Spider-Man: Homecoming in 2016, their chemistry has been through the roof. After four years of sweet moments on the red carpet and press interviews, the two unintentionally hard-launched their relationship in 2021. Since then, the two have largely maintained their privacy. Even with that discreet approach, that hasn't stopped their romance from being marred with marriage and pregnancy rumors.
Here's a full breakdown of their relationship, from their flirtatious Spider-Man promotional run to engagement rumors.