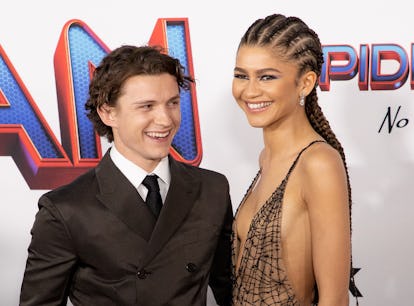 Zendaya & Tom Holland's Astrological Compatibility Is Off The Charts
There's nothing star-crossed about these two.
Emma McIntyre/Getty Images Entertainment/Getty Images
If there's any couple cuter than Spider-Man and MJ, it's Zendaya and Tom Holland — and their chemistry on-screen is nothing compared to their IRL connection. Since dating rumors started in 2021, Tomdaya shippers have been spoiled with sweet moments and red carpet appearances. It's not just that this duo is adorable together in and out of costume. Zendaya and Tom's astrological compatibility is also seriously impressive, though it does come with a few complicated wrinkles.
Zendaya is a Virgo, and Tom is a Gemini. Although these signs have their fair share of differences, they can connect on a deep and personal level. As long as they push each other to actually feel their emotions and not just overanalyze them, this couple can prove to be a great match.
Zendaya and Tom share "perfectionist" tendencies, making them a great team — and giving them the perfect base to grow from. "They both find comfort and amusement in conversing with each other. Gemini feels really at home with Virgo, and feels as though Virgo is an integral part of their foundation and someone with whom they can relate on a deep level," Lisa Stardust, an astrologer and author of Saturn Return Survival Guide: Navigating This Cosmic Rite of Passage, previously told Elite Daily. "Virgo, on the other hand, feels that Gemini ... give[s] them understanding about their life and how they relate to the world."
This powerful connection makes Virgo-Gemini couples nearly unstoppable, and for Zendaya and Tom, the depth of their astrological compatibility points to good things ahead.
Virgo-Gemini Relationships Are Intellectually Stimulating
Virgos and Geminis often find each other and connect over their intellectual pursuits. Astrologer Kristina Semos previously explained their bond to Bustle: "They truly can be mind-mates, which can be a huge turn-on for both these cerebral signs."
Considering Zendaya and Tom's dedication to their individual and joint acting projects, this makes complete sense. As a Virgo, Zendaya may be slightly more concerned about achieving perfection (hence her stellar performance in Euphoria). But Tom is by no means a slacker, either. From Avengers to Uncharted, he's been busy.
Speaking to InStyle in Oct. 2021, Zendaya explained, "[It's] a Virgo thing. If something is not perfect or the best, then I feel like I might as well have not even done it. I turn something into being the worst thing, even if it was fine. But it's not fine to me." Later, she added, "Seeing [Tom] at work, even though he's not a Virgo, he is a perfectionist." Sounds like a match.
Virgo-Gemini Relationships Thrive When They're Friends First
Because of their intellectual similarities, Virgos and Geminis often form a platonic connection before a romantic one. So, it makes total sense that before dating, Zendaya and Tom were friends and co-stars. Semos explained to Bustle, "The clever repartee, witty comebacks, and sheer text flirtation can do a lot to cement their interest for each other and keep each other entertained for a long time."
Stardust previously said that these two signs typically "have a lot of fun together" as friends, but that doesn't mean there isn't a romantic spark under that friendly surface. As naturally thoughtful signs that can tend toward anxieties and doubts, being friends first can make help Virgos and Geminis build trust.
And once those doubts fade, things can get steamy and stay that way for a while. "In romance, it can be really sizzling and last a long time," Stardust explained. Considering those heart eyes Tom left on Zendaya's Feb. 26 Instagram post, it looks like things are still as lovey as ever.
Virgos & Geminis Can Get Overly Analytical
Although Virgos and Geminis might sound like a match made among the stars — especially when you consider just how perfect Zendaya and Tom seem together — there are some potential problem areas.
Both signs tend to overanalyze their feelings, so if problems come up, they may be ill-equipped to handle them without doing some intentional work on themselves. Though Geminis tend to be very communicative, they can get stuck in logistical factors and ignore their emotional needs. And Virgos do the same — though they're even less likely to want a conversation in the first place.
When they do talk it out, these signs should be able to keep an even head and stay "emotionally detached," per Mitzye Ramos Ribas, astrologer and owner of Tarot del Corazón. She explained to Bustle, "This is good for objectivity but not so good when dealing with personal issues."
Emotional conversations might not be Virgos and Geminis' strong suit, but these Mercury-ruled signs can get past that, and they have plenty of other points of compatibility to keep their connection strong. And, if all else fails, Zendaya and Tom will always have their intellectual passions to bond over — whether they have to do with the Spider-Man universe or not.