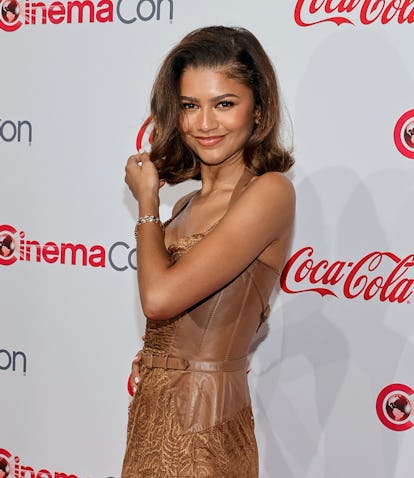 Zendaya's First Date Story Actually Has An Eerie Connection To Tom Holland
It's like she was seeing the future.
Ethan Miller/Getty Images Entertainment/Getty Images
Spider-Man has been a part of Zendaya's love life from the very start. The actor recently revealed the story of her first date, and it includes a very interesting connection to the franchise that would years later both help make her famous, as well as introduce her to the love of her life. Yep — Zendaya's first date was seeing The Amazing Spider-Man at a movie theater. Little did she know that just a few years later she'd be up on that screen starring in the new generation of movies, and that instead of her date that day, she'd be going out with Spider-Man himself.
Zendaya told the story of her first date while accepting the Star of the Year Award at CinemaCon on April 27. While expressing her love for movie theaters, she divulged the prophetic details: "Literally my first date was when I was 15 years old and it was to go see [The Amazing] Spider-Man in 3D," Zendaya recalled.
Of course, everyone can recognize the serendipity in that movie choice now. Five years after Andrew Garfield's version of The Amazing Spider-Man swung into theaters, Tom Holland took over the role in Marvel's franchise reboot Spider-Man: Homecoming, with Zendaya signing on as Peter Parker's love interest MJ. Shortly after the movie came out, rumors swirled that Zendaya and Holland had begun dating while on set. It wasn't until four years later that photos of the couple kissing went viral, and they couldn't hide their romance from the public any longer.
The couple has been going strong ever since, and although they still like to keep their personal lives private, they've gotten more vocal about their love for one another. They've also been focused on different projects recently — although Marvel has announced plans for more Spider-Man movies, they aren't in the superhero behemoth's immediate two-year plan, so Holland and Zendaya don't get to go to work together anymore at the moment. Instead, Zendaya is starring in Dune: Part 2 as well as preparing to go back into production on Euphoria Season 3, while Holland produces and stars in the Apple TV+ thriller The Crowded Room.
Spider-Man may be on a bit of a pause now, but clearly the web-slinger has always been an important part of Zendaya's story, swinging her from her very first date to the love of her life.