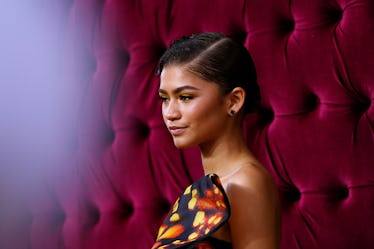 Zendaya May Be Dating One Of Her Co-Stars & Fans Are So Excited About It
Lisa Maree Williams/Getty Images Entertainment/Getty Images
This was the year that Zendaya became a full-fledged movie star. The Disney Channel star made her big screen debut in two of the biggest movies of 2017 — Spider-Man: Homecoming and The Greatest Showman — and along with finding her place in the Marvel Cinematic Universe, she may have also found a famous boyfriend. Rumors have been flying since she was cast in the new Spider-Man flick that Zendaya is dating her costar Tom Holland, mostly because it is hard to ignore their incredible chemistry. So, is Zendaya single? Are Zendaya and Tom Holland really dating? Let's break down everything we know about this possible couple.
Reports started coming out that Zendaya and Tom Holland began dating while filming Spider-Man: Homecoming a couple days after the movie premiered. PEOPLE cited an unnamed source, who confirmed the two were a couple and keeping their relationship out of the public eye:
They started seeing each other while they were filming Spider-Man. They've been super careful to keep it private and out of the public eye but they've gone on vacations with each other and try and spend as much time as possible with one another.
Both Zendaya and Holland saw this report on Twitter, and seemed to laugh off the rumors with a fun little exchange, but fans were quick to point out that the two stars never actually denied that they were dating in their back-and-forth, so the case remained open. Here's how Zendaya and Tom Holland responded to the initial dating rumors online:
Though Zendaya and Tom Holland did not deny their romance, it is usually pretty suspicious when dating rumors between co-stars start popping up around the premiere date of their shared project. A PR-crafted relationship between co-stars can be a valuable tool in getting more people to see a movie or show — not to say that co-star romance never happens, but it is just always something to consider when this type of gossip comes up. That said, Holland and Zendaya actually did not play love interests in Spider-Man: Homecoming (Laura Harrier's character Liz is Peter Parker's crush in the movie), and the two actors were adorably flirty with one another while on their press tour earlier this year, so it was still anyone's guess whether the dating rumors were for real or invented.
Zendaya finally did address the dating rumors head on in August. In a profile for Variety, Zendaya firmly denied that there was any romance between Tom Holland and herself. She said that the two of them just grew very close while doing press tours for Spider-Man, and are nothing more than great friends:
We are friends... He's a great dude. He's literally one of my best friends. This past how many months we've had to do press tours together. There's very few people that will understand what that's like at 20 years old.
Despite Zendaya's denial of any romance, some fans still aren't convinced that she and Tom Holland are just friends. Tabloids are still reporting that they have caught the two out on dates — Us Weekly wrote that Holland went out to dinner with Zendaya's family earlier this December. Their relationship also has a very active following of truthers on Twitter, with fans having dubbed the ship Tomdaya and constantly tweeting purported evidence that the couple is real:
But despite the rumors and Twitter standom, Zendaya and Tom Holland have not confirmed that their relationship is anything more than just close friendship. As of right now, the only official news we have to go off of is Zendaya's denial of any romance back in August. Of course, things may have changed since then...