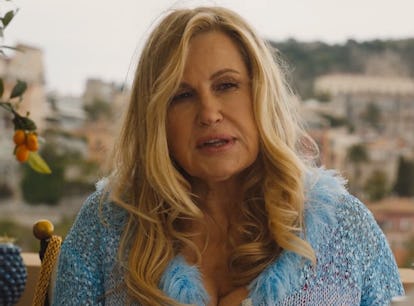 Jennifer Coolidge Addressed Those White Lotus Season 3 Theories
Will Tanya somehow return to the show?
HBO
Even death can't stop Tanya McQuoid from planning her next vacation — or, at least, that's what several White Lotus fans think. Although Jennifer Coolidge's character died at the end of Season 2, viewers have still held out hope that the actor could somehow make a comeback in Season 3. As one of the only actors to star in both seasons of the anthology series (alongside Jon Gries, who plays her scheming hubby Greg), Coolidge just feels like a necessary staple of the show for so many people. However, you can probably stop wondering whether Jennifer Coolidge will be in The White Lotus Season 3, because she more or less shut any theories down.
Despite Tanya falling to her watery grave, there have been several fan theories about Coolidge coming back for the next season of The White Lotus. Some think Season 3 could introduce Tanya's twin sister as a way to include Coolidge, while others have thrown out the idea that Season 3 could be a prequel and take place sometime before Tanya's death in Season 2's finale. Along the same lines as the latter theory, the new season could include flashbacks to Tanya's trips before her doomed Sicilian getaway.
Basically, everyone is trying their hardest to figure out some way to see Coolidge at another White Lotus resort, but she has some bad news for the theorists: It's probably not going to happen. "He sort of sticks to his guns," Coolidge said of White Lotus creator Mike White when asked if he'd find a way to bring her back in Season 3 during a Jan. 17 interview with E! News. "He's an amazing friend, but I think he made his decision. He wanted a big, dramatic, Italian, you know, operatic ending for White Lotus 2, and he wanted to sacrifice Tanya."
So, unfortunately, it sounds like Coolidge has said arrivederci to The White Lotus, but Tanya's story could still be a big part of Season 3 even without her physically appearing in it. Fans think there's a lot more to dig into with Greg's murder plot and Portia's knowledge of the scheme — here's hoping the new season gets Tanya some justice, even if she's gone for good.