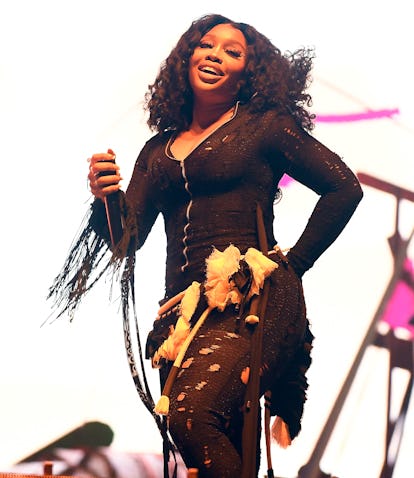 SZA Thought Drake Was "Trying To Sabotage" Her On "Slime You Out"
Working with an ex is always going to be drama.
Tim Mosenfelder/FilmMagic/Getty Images
"Slime You Out" was bound to be messy from the jump. The lead single from Drake's 2023 album For All The Dogs reunited the rapper with his ex-girlfriend, SZA, for a collab all about situationship grievances. The result was a chart-topping hit... but also a heaping helping of drama. And SZA revealed that making the track was as complicated as you might think, even admitting she felt Drake tried to "sabotage" her at one point in the process.
SZA recalled feeling uneasy about how Drake was producing her part of "Slime You Out" in an Oct. 30 Wall Street Journal profile. She said she recorded two takes of her verse, and was surprised when Drake used the first take for the final cut.
"If you accept my first draft, I won't trust you," SZA said. "I just handed in the first draft to Drake, and he's putting it on his album. I'm scared because I handed in second vocals, and he didn't use that. And now I'm like, 'Are you trying to sabotage me?'"
SZA clarified that she realized she was catastrophizing things, admitting that she doesn't feel comfortable when putting out her work feels so easy.
"I know that's not true. I literally know that's not true, but that's how bad I feel about my first draft," SZA explained. "When things come from an effortless space, I almost can't enjoy it."
That wasn't the only reason creating "Slime You Out" might have felt a bit awkward. Back in 2020, Drake revealed he dated SZA more than a decade ago in some surprising lyrics. SZA later confirmed they dated in 2009, but wrote the relationship off as "so childish." 14 years later, "Slime You Out" marks their first collaboration.
But the drama didn't end there. When SZA and Drake promoted the single's release in September, they posted a photo of Halle Berry getting slimed at the Kids Choice Awards. Berry wrote that Drake asked for her permission to use the photo as single art, and she told him no. She said his decision to use the photo anyway was "not cool."