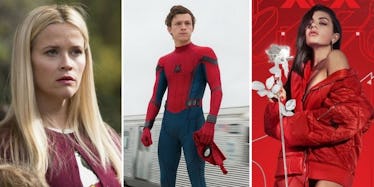 Here Are Your Weekly Pop Culture Picks From Elite Daily's Entertainment Team
HBO, Sony, Asylum
Each week, Elite Daily's entertainment team discusses the pieces of pop culture they have been obsessed with over the past seven days.
"Big Little Lies" on HBO
"Big Little Lies" is my favorite thing on TV lately. It has amazing actresses, several compelling mysteries and has given me endless amounts of GIFs to express myself. Reese Witherspoon as Madeline is perfection. I am SO sad it's ending this week. - Becca Van Sambeck
"Heatstroke" by Calvin Harris ft. Ariana Grande
Calvin Harris just released his new song "Heatstroke" with Ariana Grande and it's gonna make me pass out 'cause I love it so much. Thanks for making me feel all hot and sweaty, Calv! - Katie Corvino
The "Spider-Man: Homecoming" Trailer
So, the new "Spider-Man: Homecoming" trailer dropped this week, which helped me realize I'm still absolute trash for Spider-Man.
I know this is the third kid to play Spider-Man in a decade, but I really think this is the one, you guys. He's finally with the Avengers! He's not Tobey Maguire! Zendaya is there! This is going to be great. - Anna Menta
"What Alice Forgot" by Liane Moriarty
I just finished reading "What Alice Forgot" by Liane Moriarty, who wrote "Big Little Lies." I'm watching the HBO special now and absolutely LOVING it, and my fiancé got me this book after hearing how great it was from a friend.
It's all about this woman who falls during a spin class (so basic) and loses her memory of the past 10 years. It's really interesting and makes you think about what you want to look back on in your life 10 years from now. The rumor is Jennifer Aniston will star in the movie version that's currently in the works. - Tina Kolokathis
Number 1 Angel by Charli XCX
I honestly don't think there's someone more adept at crafting perfect, genre-pushing pop music right now than Charli XCX. She dropped her new mixtape a couple of weeks ago and I've had it on replay ever since.
It's just pure, energetic pop perfection, and it also features some of the coolest, more underground female pop stars in the game, like Cupcakke, Uffie and MØ. - Dylan Kickham
The "S-Town" podcast
I started the new podcast "S-Town" this week, and I was hooked within the first five minutes. It's from the same people who made "Serial" and "This American Life," and it's about a shitty little town in Alabama (aka, S-Town) where a murder committed by a rich family's son has apparently been covered up. - Kelli Boyle
"The Great British Bake Off" on Netflix
I've been LOVING "The Great British Bakeoff." Just started binging this past week and holy crap is it entertaining. - Eitan Levine