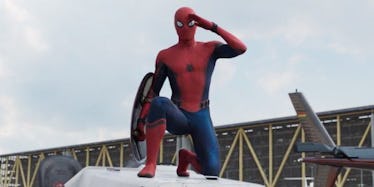 New 'Spider-Man: Homecoming' Poster Hints At Major Connection To Avengers
Marvel
Spider-Man is going to have some pretty impressive friends in his new movie, and the first official poster for "Spider-Man: Homecoming" is putting the web-slinger's connections on full display.
Marvel just released its first poster for the upcoming Spider-Man standalone flick, and it's hard to miss one prominent thing sticking up in the background.
The poster sees Spidey lounging in front of New York City, casually wearing headphones and a yellow jacket with Peter Parker's school insignia on it (you gotta be more discreet, man!), and jutting up from the city is...
It's the Avengers Tower, you guys!! It's the high-tech skyscraper Tony Stark originally built for his own headquarters, but later opened up to become the base of operations for all of the Avengers.
Sooo... why is this a big deal? Because it seems like Marvel is teasing that Spider-Man might not be the only famous superhero popping up in his premiere standalone in the Marvel Cinematic Universe!
Need more proof the Avengers Tower is significant? Just take a look at the second poster Marvel released for the movie:
That's Spider-Man literally hanging from the Avengers logo on the Avengers Tower — so yeah, I think Marvel definitely wants us to expect some super-cameos.
We already know Robert Downey Jr.'s Iron Man is going to be making an appearance in "Homecoming" — that was reported pretty much right after "Captain America: Civil War," which featured a brief scene of Iron Man and Tom Holland's Spider-Man bonding.
So does the tower being so prominent in the posters mean Iron Man will have a major role in the movie, or is it saying Cap, Thor, Black Widow or any of the other franchise stars might pop in?
We'll just have to wait and see, I guess.
"Spider-Man: Homecoming" will be the feature film introduction for the third Spider-Man-centric franchise in the past 15 years.
First, Tobey Maguire played the web-slinger in three films, then came Andrew Garfield in two movies of his own. Now newcomer Tom Holland is taking over the red-and-blue spandex for the first iteration that will be set in the highly successful Marvel Cinematic Universe.
And it looks like the movie is going to take full advantage of the super popular characters that exist in this vast universe. We'll see just who exactly joins in on the fun when "Spider-Man: Homecoming" premiered on July 7.