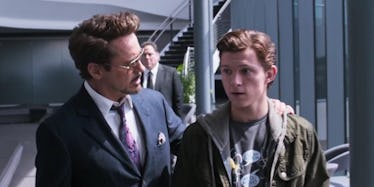 The New 'Spider-Man' Trailer Is Here And Tony Stark Is The Star
Marvel Studios
Spider-Man is back... again.
The first trailer for "Spider-Man: Homecoming" dropped late Thursday night on "Jimmy Kimmel Live!" and it's taking Peter Parker back to high school (again).
After making his debut in "Captain America: Civil War," 20-year-old actor Tom Holland is the new face of Spider-Man, the third actor in 15 years to take on the role (following Tobey Maguire and Andrew Garfield).
And yes, Spider-Man has a hyphen in his name now. It's to make the comic nerds happy.
But this time around Marvel Studios has teamed up with Sony Pictures — and if you're not up and up on the Marvel Studios beef, just know this means Spider-Man can finally be a part of the Avengers, as he is in the comics.
It looks like Tony Stark (Robert Downey Jr.) will be featured prominently in the film, prepping Peter to become a big time superhero.
Of course, like any healthy father-son relationship, Peter wishes Tony would stop treating him like a child.
"Dad! So embarrassing!!!"
Spider-Man's got a bit of a costume update, with moving eyes and wings. (???)
Michael Keaton makes an appearance as The Vulture.
We get a brief glimpse of Zendaya as Peter's friend, Michele.
And Donald Glover is there as...someone!
We even got a little shoutout to the OG Tobey Maguire days.
That face will just never get old.
Though she's not in the trailer, Marisa Tomei will star as Peter's Aunt May, and Hannibal Buress will make an appearance as "Coach Wilson."
Top all this high school superhero drama off with that MGMT song "Time to Pretend," and this is starting to really feel like "Spider-Man" again.
The film is helmed by 35-year-old director Jon Watts, whose only other blockbuster is the 2015 film "Cop Car," starring Kevin Bacon.
"Spider-Man: Homecoming" hits theaters next summer, July 7, 2017.
Citations: The Wait Is Over: Here's the First 'Spider-Man: Homecoming' Trailer (Complex)