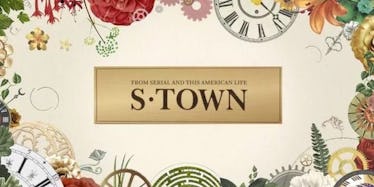 New 'Serial' Podcast Is Finally Here And The Murder Is Blowing Everyone's Mind
S-Town Podcast
Three years after the smash hit podcast "Serial" blew all of our minds, the long-anticipated follow-up is here.
The new binge-worthy series is called "S-Town," and even though it doesn't quite fit the same true-crime mold of its predecessor, it still looks freaking amazing.
Oh, and in case you were wondering, "S-Town" is actually short for "Shit-town."
According to USA Today, the new podcast begins with longtime "This American Life" producer Brian Reed responding to a letter from a fan of the podcast, a man named John, who lives in a self-described "crummy little town" in Alabama.
John wrote to Reed because he wanted him to investigate what he believes is an unreported murder.
So, Reed makes his way on down to "S-Town," meets John and some other townies and begins to look into the alleged crime.
However, the story delves not just into the rumored murder of a young boy, but also into John's own character, as well as the tensions lurking beneath the surface of this small Southern town.
It's safe to say people are more than just a little excited for the release of the podcast, which was first announced back in November 2016.
The episodes were just released yesterday, yet so many people have already binged their way through the entire thing.
It certainly helps that the seven episodes of the show were dropped in reverse order. #blessed
Seriously, people are absolutely blown away by "S-Town."
I'm not single, but hi, I am a female who only wants to talk about "S-Town."
Where is it going!? I NEED TO KNOW.
Hopefully all these Eager McBeavers who already binged the show don't spoil it for the rest of us.
Also, can we talk about what a perfect and amazing troll Ira Glass is?
He's exactly the kind of person I want behind what seems to be an absolute masterpiece of a podcast.
If anyone can't reach me tomorrow, it's probably because I decided to commit seven hours of my day to binging all of "S-Town."
Citations: 'S-Town' from the 'Serial' team is here, and it's more than a murder mystery (USA Today)