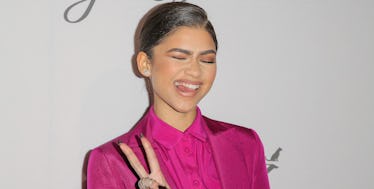 Zendaya May Be Spiderman's New Mary Jane And Twitter Is Here For It
REX/Shutterstock
Big news, nerds, big, BIG news.
Thursday night, The Wrap announced Zendaya -- Disney Channel darling, singer, Lemonade guest appearance-maker, intersectional feminist role model -- is slated to play Mary Jane Watson in next summer's "Spiderman: Homecoming."
Come July 7, 2017, the 19-year-old will carry the torch passed by Kirsten Dunst, who portrayed MJ in three "Spiderman" films from 2002 to 2007.
Fans are understandably psyched to hear a woman of color will be portraying Peter Parker's badass redheaded love interest.
BELIEVE IT, BAYBEH!
It's honestly casting perfection.
.@Zendaya playing Mary Jane is the best casting choice ever pic.twitter.com/ouT1RUyH5k — Daniel Bostic (@debostic) August 19, 2016
Zendaya is playing Mary Jane in Spiderman: Homecoming? Black girls STAY WINNING y'all #prettybrownandnerdy pic.twitter.com/nraX9ZlUkb — Pretty Brown & Nerdy (@PBNtweets) August 18, 2016
Omg Queen @Zendaya is playing Mary Jane?! pic.twitter.com/wzJvrTwAQD — Ira Madison III (@ira) August 19, 2016
Moviegoers who might have skipped the film prior to this announcement are finally interested in seeing it just for Zendaya's MJ.
Zendaya will star opposite Tom Holland's Peter Parker/Spiderman, creating a couple so adorable all our hearts might explode before we get to see any of that flip-y, swingy, swoop-y, kicky Spiderman action.
Citations: Twitter is thrilled by the prospect of Zendaya's role in 'Spider-Man' (USA Today)