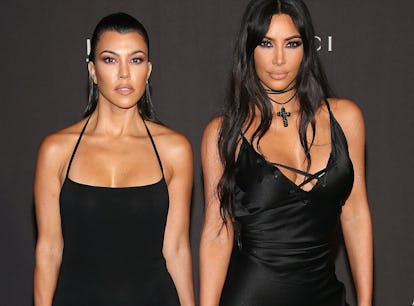 Kourtney Has Receipts On Who Is & Isn't In That "Not Kourtney" Chat
The Kardashians series has it all: Budding romances, breakups, and uncomfortable brawls. Even with all those theatrics, it seems the long-simmering feud between Kim and Kourtney Kardashian will outlive us all. On the show's Season 4 premiere, the two sisters reignited their Dolce & Gabbana fight from the previous season. And while that argument gave TikTok a golden sound, it's only made their relationship (and now, this mysterious group chat) more tense.
Here's a quick refresher on the drama. In the Sept. 28 episode, the Kardashian sisters had a heated phone call about their past projects with Dolce & Gabbana. In Season 3, which was filmed last September, Kim partnered with the fashion house to release her Ciao, Kim collection. Kourtney became upset with this collaboration, as she teamed up with the brand six months earlier for her wedding to Travis Barker. As a rebuttal, Kim alleged her sister actually stole her Dolce Vita aesthetic from her 2014 wedding to ex-husband Kanye West. Yes, it's a lot to keep up with — no pun intended.
During their recent argument, Kim accused Kourtney of hating her and being "a different person." "All of your friends call us complaining, so we're all confused and we're on a group chat that's actually labeled 'Not Kourtney,'" Kim said. She also stated Kourtney's children "come to her" with concerns, to which she called Kim a "f*cking witch" and a "narcissist."
Ever since their argument went viral, fans wanted to know the names in this alleged group chat. Luckily, Kourtney wasted no time in spilling the tea. On Sept. 30, Kourtney posted a screenshot of her own chat with friends Allie Rizzo Sartiano and Simon Huck. There, her two pals denied the "Not Kourtney" thread even existed and that "trolls" were accusing them of being involved in the chat.
Hm, so what is the truth? While those two friends revealed the chat didn't exist, Kourtney later revealed it actually did — however, Sartiano and Huck aren't in it. In the comments section of her Sept. 29 Instagram post, one follower asked if the friends who attended her baby shower were in the "Not Kourtney" group chat.
The Poosh founder responded: "No the members of that chat are namely Kim, Khloe, Kendall and Kylie. Case closed." Welp.
This isn't the first time the sisters have fought. Their most infamous disagreement happened during their March 2020 episode of their former series, Keeping Up with the Kardashians. At the time, Kourtney returned to filming following a month-long break in Italy with her children. Kim insulted her sister's work ethic, and their low blows turned into a physical fight.
Kim hasn't publicly addressed Kourtney's new claims about the group chat.
This article was originally published on