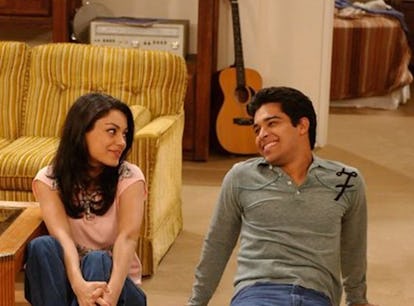 That '90s Show Pulled A 180 On Fez & Jackie's That '70s Show Finale Moment
The reason for their breakup is totally them.
Fox
For the most part, the returning That '70s Show characters in Netflix's sequel series That '90s Show pick off right about where they left off — Eric and Donna are relationship goals, Kitty is still the perfect homemaker, and Red is a curmudgeonly as ever. But there is one big change. That '70s Show ended with Jackie and Fez becoming a couple, but That '90s Show revealed that relationship didn't last long at all.
The final season of That '70s Show revolved around Jackie realizing her feelings for Fez, and although their courtship was messy, the two finally ended up becoming a couple in the series finale. However, now fans know what happened. In That '90s Show, Fez is dating Red and Kitty's neighbor Sherri 15 years after he was seeing Jackie. When Kitty asked what ever happened between Fez and Jackie, Fez revealed that they went to a Jamaican resort shortly after they started dating, and he caught Jackie on the phone with her ex Kelso while there. She went back to Wisconsin to be with him, leaving Fez to finish out his stay in Jamaica alone.
And sure enough, despite their many dysfunctions, Jackie and Kelso have somehow managed to last the decade and a half since That '70s Show ended. The two revealed they were getting re-married for a second time during their That '90s Show cameo, and their son Jay Kelso is one of the new basement crew.
Jackie and Fez's sudden breakup may seem strange, but it was likely the show wanting to bring Jackie and Kelso together in order to spotlight Mila Kunis and Ashton Kutcher's IRL marriage. It also opened up Fez to playing a bigger part in the new series, as his complicated relationship with Sherri gets a spotlight throughout the first season. However, the Jackie and Kelso timeline does create some plot holes — most notably, they couldn't have given birth to their 16-year-old son Jay if they just got back together 15 years ago. Also, Kelso's other child, Betsy, is never mentioned in the new series.
But who needs to stress over small plot holes when you're too busy enjoying Red and Kitty's basement again at long last. Hopefully fans will get more details about everything that went down in the '80s and early '90s if That '90s Show gets renewed for a Season 2.