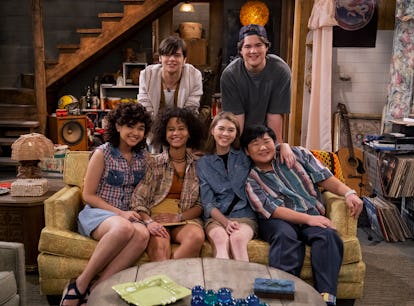 Here's Each That '90s Show Character's OG '70s Counterpart
No further questions at this time.
Patrick Wymore/Netflix © 2022
That '70s Show introduced the world to a group of groovy teens with personalities and dynamics so unique, they could never be replicated... or so everyone thought. Now with Netflix's That '90s Show, fans are getting another, slightly more modern iteration of the basement crew, with similar personalities to match. Turns out, every That '90s Show has a That '70s Show character counterpart, and even if their photos don't look alike, their vibes are totally on point.
Warning: Spoilers for That '90s Show follow. That '70s Show began in 1976, with Eric Forman's in his parent's basement, hanging out with his high school friends. That '90s Show started 19 years later, but with the same premise, when Leia Forman opted to live with her grandparents for the summer. Basically, it's a new crew and a new decade, but the same old situation.
Some of the people Leia in Season 1 met are literally the same ones her parents knew, like Leo and Fez. But some just seem familiar, almost like they're the next generation reborn. (Spoiler alert: Some of them are exactly that.)
Here's who is who in That '90s Show and how they correlate to the previous generation of basement dwellers.
All episodes of That '90 Show Season 1 are streaming on Netflix.