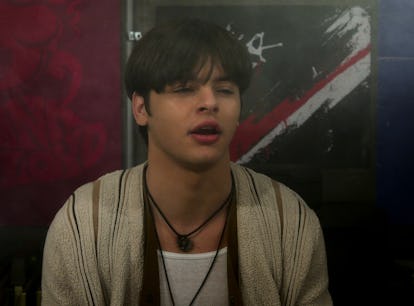 Say Hello To The New Kelso In That '90s Show
The resemblance is uncanny.
Netflix © 2022
When Netflix announced it was reviving That '70s Show, set 20 years later as That '90s Show, fans were wild to see what happened to their old friends from Wisconsin. The first teaser introduced Leia Forman, daughter of Eric and Donna. A bigger surprise came when the character identified as "Jay" was revealed as Jay Kelso, son of Michael and Jackie. One look at him and fans might wonder who plays Jay in That '90s Show, because the resemblance between him and actor Ashton Kutcher, who played Michael, is uncanny.
Warning: Spoilers for That '90s Show follow. Anyone who watched every season of That '70s Show knew Michael Kelso had a kid — Betsy Kelso, his daughter, was born in Season 7, and Kelso moved to Chicago to be in her life in Season 8. But apparently, he never got custody. Instead, post-Season 8, he got back together with Jackie, and they had a son, Jay, who, like Leia, was 14 years old in 1995.
Jay's home life doesn't seem to have been peaceful. Michael and Jackie were on their way to getting re-remarried in That '90s Show's series premiere — their third marriage (to each other) after being twice divorced (from each other). But he inherited his father's looks and way with women, making Leia fall for him pretty hard.
When Ashton Kutcher made a cameo as Kelso to hug it out with his son in the series premiere, it was startling how much they looked alike. But before you ask, no — actor Mace Coronel, who plays Jay in the series, is not related to Kutcher.
However, Coronel is well-known to Nickelodeon fans. The actor has been working since he was 7, with guest roles on Up in Arms and Hart of Dixie. His first recurring role was in The Bold and Beautiful before landing one of the leads in Nicky, Ricky, Dicky & Dawn. Coronel played the titular Dicky Harper, one of the Harper quadruplets, who are all super different, even though they share a birthday and parents. Coronel costarred with Aidan Gallagher (The Umbrella Academy), Lizzy Greene (A Million Little Things), and Casey Simpson (Escape from Mr. Lemoncello's Library) as part of the "quad squad" until the show's final season.
Since then, he's been working toward his big break with roles like Milo Vargas in Zoe Valentine and Jake in Ava DuVernay's Colin in Black & White. Now as the new Kelso in town, it looks like he may be Wisconsin's latest heartthrob.
All episodes of That '90s Show are streaming on Netflix.