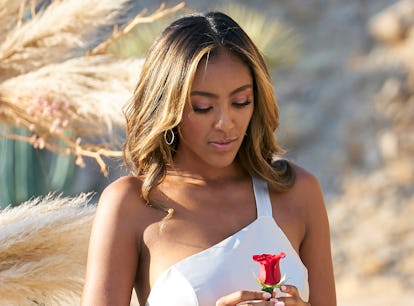 Tayshia Held Back Tears Talking About Her Breakup With Zac On "Men Tell All"
She had to excuse herself from the show.
ABC/Craig Sjodin
Not every romance is meant to last forever, and when two people manage to meet, fall in love, and get engaged on national television, the stakes are definitely raised. It's not just the couple whose hearts are on the line, but the hearts of all the viewers rooting for them, as well. So after Season 16 lead of The Bachelorette, Tayshia Adams, seemed to find her true love onscreen with contestant Zac Clark, fans were understandably shocked to learn the pair decided to call it quits. Not long after their split was announced, Tayshia addressed her breakup with Zac on the Dec. 6 "Men Tell All" special, and it was honestly hard to watch.
Going into the special, viewers already knew Tayshia and Zac had ended things. The couple's breakup was confirmed on Nov. 22 when a representative for Tayshia told People: "Tayshia Adams and Zac Clark are no longer a couple." Even though there had been rumors going around that the couple was in trouble, it was still a shock, since the pair seemed to have major chemistry and respect for one another. After Zac's sweet onscreen proposal back in December 2020, fans thought the couple would be a Bachelorette success story, but on Dec. 6 Tayshia confirmed their happily ever after just isn't in the cards.
During the "Men Tell All," which Tayshia hosted alongside Kaitlyn Bristowe, producers took the opportunity to have Tayshia explain how she felt post-breakup with Zac. When Kaitlyn pointed out she wasn't wearing her ring and asked her what was going on, Tayshia struggled to answer.
"All I have to say is I'm heartbroken," she said while clearly getting emotional. "We tried really hard, and I still love him very much. I'm not sure what the future holds." It was a short statement, but it was apparent talking about the breakup rattled her — so much so that while Kaitlyn continued interviewing Michelle's former contestants, Tayshia excused herself from the stage. She returned shortly after, but the interaction had fans wondering what could be next for Tayshia's love story.
Tayshia said it herself: She still loves Zac. This wouldn't be the first breakup/makeup situation in Bachelor Nation history, so who knows? Maybe as time goes on the pair will make their way back to each other. If not, I know fans hope they both find what they're looking for. And if that means another trip to Mexico for Bachelor in Paradise, all the better.
Season 18 of The Bachelorette continues on Tuesday, Dec. 14, at 8 p.m. ET on ABC.