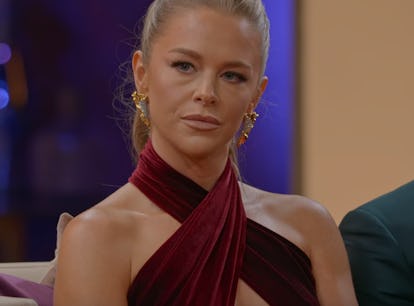 Stacy Thinks Johnie Was "Here For Camera Time" At The LIB Barbecue
She called out the "mean girl" behavior that didn't air.
Netflix
Spoiler alert: This post discusses the Love Is Blind Season 5 finale and reunion.
Stacy's feud with Johnie on Love Is Blind Season 5 had many more layers than were shown. During the reunion, Stacy brought up the snide remarks she had heard Johnie was saying about her in the dating pods, but she wasn't super specific about what ultimately set her off at the barbecue, leading her to be at the center of one of the season's nastiest fights. Now, Stacy is spilling all the tea, telling Elite Daily a lot of Johnie's "mean girl" antics didn't air, and revealing the comment that finally made Stacy go on the offensive.
"It was like a ticking time bomb," Stacy says of her tense relationship with Johnie. "It was just her saying things behind my back that are hurtful constantly. At first I didn't feel a need to address it. And then it just continued even outside of the pods, trash-talking me to all of my own friends."
For Stacy, the final straw was a remark Johnie made to Milton when the cast reunited at the barbecue. "Me, her, and Milton were outside the barbecue, and Milton was like, 'Johnie, I don't even remember Stacy from the pods, and then when we met in Mexico, she was so cool.' And Johnie was like, 'Oh, not memorable?' I had just had it."
It was Johnie's reaction to Uche and Lydia's drama at that event that really rubbed Stacy the wrong way. "I didn't like that Johnie was giving Uche's campaign any light," Stacy says. "She was like, 'Oh my God, tell me where! Oh my God, Lydia, he has some good points.' I was just like, 'Why are you here? Are you here to support your friend or are you here for camera time?'"
Stacy says she lost all trust in Johnie during that moment at the barbecue. "Just everything about it was wrong to me. You're crap-talking. You're being a mean girl. You're not having your girl's back. That's why I say don't trust her. I don't want to be around people like that."
Stacy is disappointed that the show's final edit didn't give the full context for why she was so angry with Johnie.
"I do wish that more stuff was shown with the Johnie drama," Stacy admits. "I feel like there's just a little bit of her being negative, and then I explode. There's not enough context, so people just jump to, 'Oh, you're mean.' And it's actually the other way around, but you don't see that.
"There's just more to it where I felt very put down and attacked at certain points, and I just hate watching it that it looks like the opposite," Stacy says.
Stacy was also caught off guard when she found out her former fiancé Izzy made out with Johnie after their breakup. "I was shocked, obviously, because of how Izzy had expressed his feelings about Johnie. They weren't positive, so that was confusing," Stacy says. "I was like, 'Are they doing this to get back at me and make me feel inferior?' It was that feeling of 'I want to know why, but also why do I care?' I can't make sense of crazy, so I'm not going to try to."