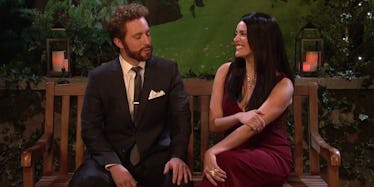 'SNL' Perfectly Parodies Nick Viall As 'The Beard Hunk' In Hysterical Clip
NBC
If there's one thing we can rely on in this world, it's the fact "SNL" will always hop on board the crazy train when wild stuff goes down in pop culture.
If we need some comic relief while contemplating our country's future (looking at you, Trump), or if we're looking for a good giggle while talking about the latest contestant on "The Bachelor," you can bet the late-night show will deliver.
And deliver it did on January 14. If there are two things the world loves to hate-watch, it's Donald Trump and "The Bachelor." They give "SNL" so much to work with, it's almost not fair. (In Trump's opinion, it's definitely not fair.)
Enter "Beard Hunk:" The latest "SNL" sketch making fun of "The Bachelor" and all of its contestants.
In the sketch, women in prom-like gowns got the chance to speak with "Nick," the "hunk with a sculpted beard." But just like on the actual ABC show, the women had to "steal him for a sec" to prove why, in fact, they are the love of his life.
As you might have imagined, Nick (played by Beck Bennett) "liked that."
Nick Viall's season of "The Bachelor" has only just begun, but already, we're experiencing a lot of nuttiness.
On last week's episode, a 24-year-old hopeful on the show casually whipped out her boobs while on a photoshoot with Viall, as one does.
Viall said he was "uncomfortable" about the whole situation.
Another couldn't keep her lunch down on her first date with the hunky-hunky bachelor.
Yikes.
And then, there was that whole let's-punch-Nick-in-the-face thing to keep the sexy stud on his toes.
Phew. I told you there was a lot of nuttiness happening.
There is definitely no boobs, vomit or violence in "Beard Hunk," but we definitely still have some interesting ladies to watch.
We have one contestant who claims she's 24, but says she really has the face of a 36-year-old.
She also says she's the founder of her own business, but just kidding, she's not!
We have a frog-loving vet with green eyes who is deeply devoted to her 3-year-old daughter.
Except for the fact that she has no idea where the child is while she's filming the show.
Oops! Minor detail.
And then, there's a blonde bombshell (our girl Kate McKinnon) who was recently married last year... to Beard Hunk himself!
I certainly love a good twist on America's favorite reality show. (Sorry, Kardashians.)
Check out the full video and have a good laugh before the real version of "The Bachelor" returns on Monday with another dose of craziness for us to endure.
Citations: The 'SNL' Parody Of Nick's 'Bachelor' Season Calls Him A "Beard Hunk" & Where Is The Lie (Bustle)